No. 16 women's lacrosse storms past Skidmore
---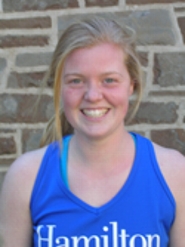 Hamilton College's Emily Brodsky '14 tied a career high with four goals and the nationally ranked No. 16 Continentals breezed to a 16-7 non-conference win over Skidmore College at Hamilton's Steuben Field on April 9.

The Continentals (6-5 overall) won their eighth straight game against the Thoroughbreds and lead the all-time series, 30-8. Brodsky had scored four games in her previous eight games this year.

Katie D'Antonio '14 tallied a career-high four assists for Hamilton. Lauren Brady '14 and Rachel Friedman '13 recorded two goals and one assist apiece. Ashleigh Stephan '15, Margaret Gabriel '16 and Caroline McCarthy '16 chipped in two goals each. Kathryn Maiorano '14 and Hannah Withiam '16 added one score.

Stephan led the team with five ground balls and three caused turnovers. Brady also finished with three caused turnovers. Gabriel and Withiam led the Continentals with three draw controls apiece. Madison Beres '15 made seven saves for her second win in her second career start.

Spencer Morgan '15 and Robin Fetterolf '14 scored a pair of goals apiece for the Thoroughbreds. Brittney Dioneda '15, Anna Gubbins '15 and Caroline Browne '15 posted one goal each.

Fetterolf scooped up a team-high five ground balls, and Morgan and Gubbins finished with four draw controls apiece. Angela Botiba '15 caused three turnovers and Shelby Witheford '15 turned away nine shots in goal.

Hamilton scored the first two goals and never trailed. Brady scored an unassisted goal 23 seconds into the first half and D'Antonio fed Gabriel for a 2-0 lead at the 1:55 mark.

Fetterolf cut the deficit to 2-1 with a goal 3:34 into the contest, and Brady restored the two-goal cushion on a free-position goal with 23:18 left in the half. Forty seconds later, McCarthy received a pass from D'Antonio and put a shot into the back of the cage. Skidmore responded with a free-position goal by Dioneda with 20:35 remaining, and Fetterolf's 13th goal 85 seconds later drew the Thoroughbreds within 4-3.

The Continentals scored the next four goals and seized control of the contest. Brady set up Stephan on the first one with 16:56 to go. Withiam won the draw and scored 14 seconds later, and Gabriel added her 13th goal just 69 seconds after that. Friedman's goal from D'Antonio made it 8-3 with 13:34 remaining.

Skidmore (1-7) ended the run with a goal by Gubbins, but the Continentals scored the next three. Brodsky scored the first of two first half goals with 11:54 to play, Stephan notched her 10th with 9:29 left and Brodsky made it an 11-4 advantage on an assist from D'Antonio with 2:25 remaining. Morgan's 14th goal cut it to six again with 1:29 left, but Maiorano scored her eighth with 10 seconds left, and Hamilton led 12-5 at the break.

The Continentals scored the first two goals in the second half and Skidmore didn't find the back of the net until there were less than nine minutes to go. Hamilton enjoyed a 38-16 shot advantage, and committed 14 turnovers to Skidmore's 23. The Thoroughbreds were successful on 12 of 20 clear attempts.

Hamilton hits the road for a NESCAC game at Connecticut College on Saturday, April 13. The Continentals will be going for their third straight win. Skidmore returns home to take on Vassar College in Liberty League action on Friday, April 12.