No. 17 women's lacrosse drops No. 9 Amherst
---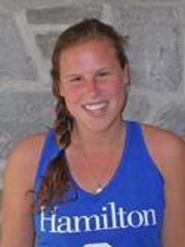 Eight different Hamilton College players scored a goal as the nationally ranked No. 17 Continentals defeated No. 9 Amherst College in a NESCAC game at Hamilton's Steuben Field on March 31.

Libby Schultz '12 posted a goal and three assists, and Katie D'Antonio '14 had a goal and two assists to lead the Continentals. Kathryn Maiorano '14, Ashley Allen '12, Mariah Monks '13, Emily Brodsky '14, Ellen Esterhay '14 and Madison Beres '15 each scored a goal, and Rachel Friedman '13 was credited with an assist.

Friedman won a game-high six draw controls, and Meg Pengue '12 scooped up a game-high four ground balls. Dewi Caswell '14 and Kari Koga '15 combined to make two saves in goal.

Marta Randall '13 led the Lord Jeffs offensively with four goals. Allie Horwitz '12 and Meghan Mills '15 chipped in one goal apiece. Alex Philie '14 won three draw controls, and Lamia Harik '12 stopped five shots in net.

Amherst (5-2 overall, 2-2 NESCAC) took a 1-0 lead with 24:03 remaining in the first half when Randall found the back of the net. But Hamilton scored five of the next six goals, and the Continentals led 5-2 with 6:08 left in the half.

Maiorano sparked the run with her ninth goal off an assist from D'Antonio with 23:11 remaining in the half. After Randall scored again at 17:53 of the first, D'Antonio responded with her 14th goal at 16:52.

Schultz had a hand in each of the next three goals. She assisted on Esterhay's tally at 13:53, found the back of the net at 10:05 and set up Beres for a goal with 6:08 left in the half. Mills scored on a free-position shot with 4:06 to play and pulled the Lord Jeffs within 5-3 heading into halftime.

Hamilton (3-5, 2-3) stretched its lead to 7-3 with goals by Monks and Brodsky to start the second half. Monks scored on a free-position shot with 22:34 to play, and Brodsky took a feed from D'Antonio for her 11th goal with 21:27 left.

Randall's free-position goal with 10:49 remaining pulled Amherst within 7-4. Allen restored the Continentals' four-goal lead with her second tally of the year off an assist from Schultz with 3:56 left.

Randall tallied her fourth goal with 2:28 to play to make it 8-5, and Horwitz found the back of the net with 41 seconds left to cut the Lord Jeffs' deficit to 8-6. Amherst won the ensuing draw control, but the Lord Jeffs were unable to get any closer.

Hamilton held a 19-13 shot advantage, and scooped up 15 ground balls to Amherst's 12. The Continentals committed just 12 turnovers, while the Lord Jeffs committed 17. Hamilton ended its losing streak at three games and snapped Amherst's win streak at five.

Hamilton travels to nationally ranked Middlebury College for a NESCAC game on Wednesday, April 4, at 5 p.m.