No. 17 women's lacrosse falls to SUNY Oneonta
---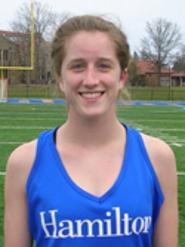 Caroline Tully '13 posted four goals and one assist to lead SUNY Oneonta to a 13-12 win over nationally ranked No. 17 Hamilton College in a non-conference game at Hamilton's Steuben Field on March 27.

Rebecca Monteith '12 added three goals and two assists, and Heidi Kissinger '12 chipped in three goals and an assist for the Red Dragons. Kiera McNally '15 scored a goal to go along with two assists, and Nikki Fioretti '15 and Nicole Boylan '15 added one goal and one assist apiece. Jillian Donodeo '15 was credited with an assist.

Kissinger led the team with a game-high nine draw controls. Monteith and Fioretti each caused three turnovers, and Monteith scooped up a game-high five ground balls. Annelise Muscietta '12 made eight saves in goal.

Katie D'Antonio '14 paced the Continentals' offense with a career-high five goals. Libby Schultz '12 added two goals and three assists, and Emily Brodsky '14 tallied two goals and an assist. Kathryn Maiorano '14, Hannah Hoar '13 and Ellen Esterhay '14 chipped in one goal apiece.

Lauren Sokol '12 and Meg Pengue '12 each caused three turnovers, and Sokol won five draw controls. Madison Beres '15 won four draw controls, and D'Antonio picked up three ground balls. Dewi Caswell '14 started in goal and made four saves in the first half. Kari Koga '15 made her first appearance in goal for the Continentals. Koga replaced Caswell at halftime, and made five saves over the final 30 minutes.

Oneonta (6-0 overall) scored the game-winning goal with 4 minutes, 12 seconds remaining when Fioretti netted her eighth goal on an assist from Monteith. Hamilton had several chances to score over the final four minutes, including a free-position attempt with 26 seconds on the clock. But the Continentals were unable to come up with the game-tying goal, and the Red Dragons claimed their first win in the series since 1983.

Hamilton (2-5) held an 11-10 lead after D'Antonio scored with 11:10 remaining. Monteith tied the score just 53 seconds later, and Tulley put the Red Dragons ahead with a goal with 8:24 left. D'Antonio pulled the Continentals even at 12 on a free-position goal with 6:25 to play.

Oneonta led 6-5 at the break. The Red Dragons held an 8-5 lead after a goal by Tulley with 27:59 left, and another by Kissinger with 26:05 to play. But Schultz and Hoar added unassisted tallies, and Brodsky pulled Hamilton even with a goal with 22:12 left.

In the first half, D'Antonio put the Continentals ahead 4-2 with a goal with 14:24 left. Oneonta scored six of the next seven goals spanning halftime to take the 8-5 lead. Tulley sparked the run with a free-position goal with 11:51 left in the half. Kissinger scored all three of her goals during the spurt.

Hamilton played the final 49:38 without leading scorer Rachel Friedman '13 after she received her second yellow card. The Continentals' five losses have come by a total of seven goals.

Hamilton held a 30-27 shot advantage, and won 14 draw controls to Oneonta's 13. The Red Dragons converted three of five free position shots, while Hamilton went 1-for-3. The Continentals lead the all-time series 26-3, and had won 23 games in a row against Oneonta.

Hamilton hosts nationally ranked No. 9 Amherst College for a NESCAC match on Saturday, March 31, at noon.