No. 17 women's lacrosse knocked out in NESCAC semis
---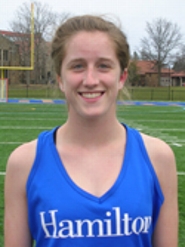 Trinity College's Shea Kusiak and Megan Leonhard scored three goals apiece and the nationally ranked No. 1 Bantams defeated No. 17 Hamilton College 13-7 in a 2013 NESCAC Championship semifinal at Trinity's Sheppard Field on May 4.

Trinity (16-0 overall), which is the top seed in the NESCAC championship for the fourth year in a row, is one win away from its third straight conference title. The Bantams play the winner of Middlebury College and Colby College on their home field on Sunday, May 5, at noon. The NESCAC champion receives an automatic bid to the 2013 NCAA Division III Championship.

Trinity has won 24 straight games, including an 8-4 victory at Hamilton on April 20, and the Bantams are the defending NCAA Division III champions. Trinity entered the day ranked first in the NESCAC with a 5.20 goals against average.

Hamilton (9-8) was the No. 6 seed for the championship and was playing in the semifinals for the second time in its second year in the NESCAC. The Continentals lost to Trinity in overtime in last year's semifinals at Trinity. Hamilton is 3-6 this year against ranked opponents and was playing its fourth straight game against a ranked team. The Continentals upset then-No. 6 Bowdoin College 10-9 in the conference quarterfinals at Bowdoin on April 27.

Martha Griffin posted two goals and one assist for the Bantams, and Molly Cox chipped in a goal and two helpers. Caroline Hayes tallied two goals, Lindsay Mullaney and Hadley Duncan recorded one apiece and Kathleen Timmons added an assist. Hillary McNamara was credited with five caused turnovers and Olivia Whitney made two saves.

Caroline McCarthy '16 and Katie D'Antonio '14 scored two goals apiece for Hamilton. D'Antonio leads the team with 36 this year. Rachel Friedman '13 had a goal and an assist, and finished her college career with 179 goals and 234 points. Ashleigh Stephan '15 and Kathryn Maiorano '14 notched one goal apiece. Lauren Brady '14 picked up two assists and Dewi Caswell '14 stopped nine shots.

Trinity grabbed a 2-0 lead with 26:25 left in the first half on two Kusiak goals, but the Continentals came back and tied the score. Brady found Maiorano with 25:11 remaining and Friedman connected on a free-position shot with 20:30 left in the half.

The Bantams seized control by scoring the next seven goals. Hayes put Trinity in front for good on her goal with 19:17 to go in the half. Leonard scored the next two goals, Kusiak and Cox found the back of the net and Cox fed Mullaney for another tally. Duncan finished the run on an assist from Timmons and made it 9-2 with 3:23 remaining in the half.

Hamilton finally scored again with 2:23 left when McCarthy fired a shot past Whitney on a pass from Friedman. The Bantams led 9-3 at the break, and their lead fluctuated between six and eight goals in the second half.

Trinity enjoyed a 27-12 shot advantage, including 15-5 in the first half. The Bantams also owned a 12-10 edge in draw controls.