No. 18 women's lacrosse edged by No. 3 Trinity
---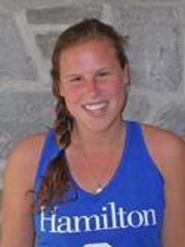 Hadley Duncan posted three goals and one assist to lead nationally ranked No. 3 Trinity College to an 8-7 win over No. 18 Hamilton College in a NESCAC game at Trinity's Sheppard Field on April 21.

Trinity (13-0 overall, 9-0 NESCAC) clinched the No. 1 seed for the NESCAC championship. The Bantams will host No. 8 Bates College on Saturday, April 28.

Hamilton (6-8, 4-6) is locked into the No. 7 seed for the conference tournament. The Continentals will travel to No. 2 Colby College on Saturday at noon.

Megan Leonhard scored three goals for the Bantams, and Shea Kusiak added a goal and an assist. Caite Irvine scored the other goal and Lindsay Mullaney was credited with one assist. Liz Bruno recorded a game-high four caused turnovers and three ground balls, and Mallory Hinman caused three turnovers. Olivia Whitney made four saves in goal.

Libby Schultz '12 paced the Continentals' offense with two goals and an assist. Rachel Friedman '13 added one goal and one assist, and Ellen Esterhay '14, Mariah Monks '13, Kathryn Maiorano '14 and Ashley Allen '12 each tallied a goal. Katie D'Antonio '14 and Emily Brodsky '14 were credited with one assist apiece. Friedman won a game-high four draw controls and Julia Beaty '13 caused a pair of turnovers. Dewi Caswell '14 stopped five shots in net.

Trinity trailed 6-5 midway through the second half, but the Bantams rattled off three straight goals to regain the lead at 8-6. Duncan tied the score at 11:37, and Bruno found Leonhard for a goal that put the Bantams ahead for good with 10:30 to play. Leonhard closed the scoring for Trinity with a free-position goal at 9:37.
Schultz scored off a feed from D'Antonio with 1:04 to play, but the Bantams won the ensuing draw control ran out the clock. Trinity had not trailed in a game since March 21.

Kusiak opened the scoring and Duncan tallied back-to-back goals to give the Bantams an early 3-0 lead. Maiorano found the back of the net to pull Hamilton within 3-1 with 15:33 remaining in the first half. Irvine scored an unassisted goal with 13:52 left, and Mullaney set up Leonhard for a goal with 7:22 remaining to give Trinity a 5-1 lead.

Hamilton scored the next five goals to take a 6-5 lead, and held the Bantams scoreless for over 25 minutes spanning halftime. Allen started the spurt with an unassisted goal with 4:17 left in the first half. Monks' goal off an assist from Friedman with 2:07 remaining cut the Continentals' halftime deficit to 5-3.

Brodsky set up Schultz for a goal 54 seconds into the second half, Schultz found Esterhay for a score at 24:43 and Friedman capped the run with an unassisted goal with 12:13 on the clock.

Hamilton hosts non-conference foe Ithaca College for its regular season finale on Tuesday, April 24, at 4:30 p.m.