No. 18 women's lacrosse edges William Smith in OT
---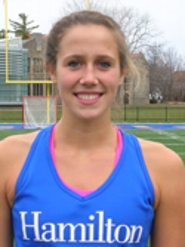 Rachel Friedman '13 scored two of her three goals in overtime to lead nationally ranked No. 18 Hamilton College to a 9-7 win over William Smith College in a non-conference game at William Smith's Boswell Field on April 10.

Friedman added a game-high five draw controls and leads the Continentals with 25 goals. Libby Schultz '12 added two goals and one assist. Schultz leads the team with 21 assists and 36 points. Ellen Esterhay '14 scored twice and Kathryn Maiorano '15 and Katie D'Antonio '15 scored the other two goals.

Emily Brodsky '14 scooped up a team-high six ground balls. Lauren Sokol '12 collected four ground balls, caused three turnovers and won three draw controls. Dewi Caswell '14 started in goal and made five saves in the first half. Kari Koga '15 replaced Caswell at the start of the second half and made five saves over the final 36 minutes.

Rosie Scheibel recorded a game-high four points on three goals and an assist for the Herons. Kathleen Ragan scored twice, and Lucy Johnson and Katie Dexter added the other two goals. Kathryn Gillan chipped in two assists and Callie Frelinghuysen was credited with one.

Johnson and Rachel Hughes each scooped up six ground balls, and Hughes caused four turnovers. Frelinghuysen added five ground balls. Maggie McNair made 21 saves in goal.

Hamilton (5-6 overall) scored three straight goals to start the six-minute overtime period. Esterhay struck first 1:29 into the period, and Friedman added back-to-back goals, including the game-winner. Ragan scored her second goal of the day with 39 seconds remaining for the final margin.

Hamilton struck first 3:06 into the first half when Friedman's unassisted tally gave the Continentals an early advantage. It wasn't until 14:22 remained in the half that Schultz capitalized on a free-position shot to make it 2-0.

The Herons (4-5) got on the board with 6:02 left when Scheibel found the back of the net off a pass from Gillan. Schultz responded with another goal less than a minute later, and Scheibel took advantage of a free-position shot with 2:11 left to make it 3-2 at the break.

Esterhay stretched the Continentals' lead to 4-2 with a free-position goal 3:37 into the second half. Scheibel caused a turnover deep in Hamilton's defensive zone to create a scoring opportunity. She found the back of the net for the third time at 5:40. Johnson scored 2:35 later on a pass from the top of the fan to tie the score at 4-4.

D'Antonio sent home a shot to regain the lead for the Continentals with 16:57 left. Ragan answered with a goal after a pass from Scheibel tied the score at 5-5 with 12:20 remaining. Frelinghuysen fed Dexter for a shovel shot from the right side to give William Smith its first lead with 10:16 left. Maiorano tied the score again with 4:29 left in regulation to send the game into overtime.

Hamilton held a 35-21 shot advantage and a 35-29 edge in ground balls. The Continentals won 11 draws while William Smith claimed eight. Hamilton was successful on 19 of 24 clear attempts and the Herons finished just 19-for-29.

Hamilton hosts Connecticut College for a NESCAC game on Saturday, April 14, at noon.