No. 18 women's lacrosse explodes for 19 goals in NESCAC win
---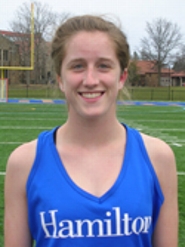 Katie D'Antonio '14 tied a career high with five goals and added two assists to finish with a career-best seven points as nationally ranked No. 18 Hamilton College defeated Connecticut College 19-12 in a NESCAC game at Hamilton's Steuben Field on April 14.

The Continentals (6-6 overall, 4-4 NESCAC) extended their win streak to three games. The 19 goals are the most for Hamilton since April 20, 2010, when the Continentals cruised to a 19-3 victory against Utica College.

Rachel Friedman '13 scored four goals and won five draw controls for Hamilton. Friedman is tied for fourth place on the program's all-time list with 140 career goals. Liz Rave '10 also scored 140 from 2007 to 2010.

Libby Schultz '12 chipped in two goals and three assists for the Continentals. Schultz started the week ranked second in the NESCAC in assists and now has 24.

Ashley Allen '12, Hannah Hoar '13 and Emily Brodsky '14 scored two goals each for Hamilton. Sara Berthiaume '15 tallied her first goal for the Continentals, Madison Beres '15 posted one goal and four draw controls and Martha Plack '14 was credited with an assist.

Josie Jones '12 scooped up four ground balls and Julia Beaty '13 caused three turnovers for Hamilton. Dewi Caswell '14 started in goal and made two saves in the first half, and Kari Koga '15 relieved Caswell and stopped two shots in the second half.

Katelyn Driscoll '12 paced the Conn. College offense with three goals and one helper. Lowell Abbott '14 and Ashley Crutchfield '12 notched three goals apiece. Abbott leads the Camels with 34 goals. Bri Miller '13 ended up with two goals and two assists, Izzy Marx '14 recorded one goal and three assists and Heidi Halsted '15 picked up two assists.

Marx won six draw controls and Driscoll collected five as Conn. College finished with a 19-14 advantage in the category. Lindsey Macdonald '15 scooped up three ground balls and caused three turnovers. Kelsey Burke '13 made eight saves.

The score was tied 1-1 early, but the Continentals scored seven straight goals in less than five minutes to take a commanding 8-1 lead. Schultz converted to give Hamilton the lead for good with 22:53 left in the first half. Allen scored on a free-position shot, Friedman tallied an unassisted goal and Hoar scored from D'Antonio for a 5-1 advantage. Beres notched her eighth goal, D'Antonio scored from a free position and Friedman made it 8-1 with 18:10 remaining.

The Camels (5-8, 1-7) tried to rally. Trailing 10-2 late in the first half, Conn. College scored the last three goals of the first half and the first three goals of the second half to climb within 10-8. Miller scored on a free-position shot with 4:27 left, Driscoll found the back of the net on a feed from Halsted and Marx assisted on Abbott's first goal of the day to make it 10-5 at the half.

Marx found Driscoll 2:25 into the second half, Halsted passed to Crutchfield for a goal and Miller fed Crutchfield to make it a two-goal margin with 24:54 remaining. Unfortunately for the Camels, the Continentals scored the next three goals for a 13-8 advantage, and Conn. College didn't get closer than four the rest of the afternoon.

Hamilton held a 31-21 shot advantage and scored on 8 of 10 free-position shots. The Continentals committed just 11 turnovers to 18 for the Camels. Hamilton has won the last four meetings between the programs. The teams last played in 2006.

The Continentals host Williams College for another conference game under the lights at Campus Road Athletic Field on Wednesday, April 18. Conn. College travels to Drew University for non-conference action on Tuesday, April 17.