No. 18 women's lacrosse falls to Williams
---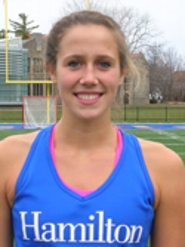 Emily Jablonski '14 tallied four goals and three assists to lead Williams College to a 15-10 win over nationally ranked No. 18 Hamilton College in a NESCAC game at Hamilton's Campus Road Athletic Field on April 18.

Williams (5-8 overall, 1-7 NESCAC) snapped a three-game losing streak with the win. Hamilton (6-7, 4-5) had its win streak halted at three games. The Continentals were playing their first night game at home since 2002.

Lilly Wellenbach '15 posted three goals and two assists, and Margie Fulton '12 chipped in three goals and an assist. Rebecca McGovern '14 scored three times, and Meera Sivalingam '12 and Rebecca Bell '15 were credited with one goal and one assist apiece. Emily Whicker '13 picked up two assists.

Wellenbach won three draw controls and Sivalingam scooped up a game-high four ground balls. Lacey Hankin '14 and Grace Horwitz '13 each caused a pair of turnovers. Ali Piltch '14 made 11 saves in goal.

Rachel Friedman '13 paced the Continentals' offense with two goals and an assist. Friedman leads the team with 31 goals. Libby Schultz '12 tallied two goals and leads Hamilton with 43 points. Katie D'Antonio '14 posted a goal and two assists, and Ashley Allen '12 chipped in two goals. Kathryn Maiorano '14 picked up a goal and an assist, and Hannah Hoar '13 and Emily Brodsky '14 scored the other two goals.

Friedman and Paire Engeldrum '13 each scooped up three ground balls, and Lauren Sokol '12 won a game-high four draw controls. Friedman won three draw controls. Dewi Caswell '14 started in goal and made four saves in the first half. Kari Koga '15 came on for Caswell at halftime and made five saves the rest of the way.

After building a 6-4 lead at the half, Williams scored the first two goals of the second half to take an 8-4 lead. But Hamilton responded with a four-goal spurt in 2:29 to tie the score at 8. Maiorano sparked the run with a goal off an assist from Friedman with 22:32 to play. D'Antonio tallied on a free-position shot, Friedman added an unassisted goal and Schultz found the back of the net off an assist from D'Antonio with 20:03 left to cap the spree.

Jablonski's man-up goal with 14:59 on the clock gave the Ephs a 9-8 lead. Hoar responded with a free-position goal just 47 seconds later to tie the score at 9.

Williams broke the game open with six straight goals to take a 15-9 lead. Jablonski put the Ephs ahead for good off an assist from Wellenbach at 14:02, Bell and Fulton added unassisted goals and Jablonski scored another man-up goal with 6:12 remaining. McGovern found the net at 3:31 and 1:58 to close the scoring for Williams. Allen scored a goal for Hamilton with 1:06 to play for the final margin.

Wellenbach found Fulton for a goal to put the Ephs ahead 1-0 with 29:16 left in the first half. Schultz, Allen and Friedman scored goals for the Continentals in just over a three-minute span to give Hamilton a 3-1 lead with 25:11 remaining in the half.

But Williams scored five straight goals and held Hamilton scoreless over the next 24:58 to take a 6-3 lead. Wellenbach scored two goals and Jablonski tallied all three of her assists during the stretch. Brodsky notched an unassisted goal with 13 seconds left in the half to pull Hamilton within 6-4 at the break.

Williams held a 32-27 shot advantage and scooped up 23 ground balls to Hamilton's 16. The Ephs' win tied the all-time series at 2-2.

Hamilton travels to No. 3 Trinity College for a NESCAC game on Saturday, April 21, at noon. Williams hosts No. 10 Amherst College for a NESCAC game on Saturday, April 21, at noon.