No. 18 women's lacrosse rolls over No. 19 Bates
---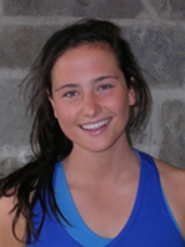 Mariah Monks '13 scored a career-high four goals and led nationally ranked No. 18 Hamilton College to a 16-9 win against No. 19 Bates College in a NESCAC game at Bates' Garcelon Field on April 7.

Hamilton (4-6 overall, 3-4 NESCAC) was playing its third straight game against a ranked opponent. The Continentals scored the first four goals and never trailed.

Kathryn Maiorano '14 tallied three goals and Rachel Friedman '13 posted two goals and three assists for the winners. Katie D'Antonio '14 and Libby Schultz '12 chipped in two goals and two assists apiece. Hannah Hoar '13, Ashley Allen '12 and Ellen Esterhay '14 all scored one goal. Martha Plack '14 and Emily Brodsky '14 were credited with one assist apiece.

Lauren Sokol '12 won seven draw controls and picked up three ground balls for Hamilton. Paige Engeldrum '13 led the team with four ground balls, and Meg Pengue '12 caused two turnovers. Dewi Caswell '14 started in goal and made three saves. Kari Koga '15 relieved Caswell at the start of the second half and stopped four shots.

Emma Getsinger paced the Bobcats' offense with three goals. Blair Shrewsbury posted two goals and Joan O'Neill, Wally Pierce, Caroline Pierce and Maggie Reilly added one each. O'Neill entered the game with a conference-best 33 goals. Jenna Dannis and Kathy Yannopoulos passed out one assist apiece.

Bates' defense was led by Linnea Fulton, who came up with five ground balls and four caused turnovers. Cat Dioli also caused four turnovers, and Dannis won four draw controls. Leah Elsmore started in goal, but allowed seven goals in 21-plus minutes without making a save. Eloise O'Connor stopped three shots -- all in the second half.

Monks gave the Continentals an early 1-0 lead 2 minutes, 7 seconds into the first half. Schultz made it 2-0 with 19:10 left, and Maiorano scored 45 seconds later. D'Antonio increased the lead to four goals with 16:20 remaining. Bates finally broke the ice with 15:51 left, when Wally Pierce put the Bobcats on the scoreboard with an unassisted tally.

Hoar and Monks answered Pierce's score with two goals within the next 94 seconds for a commanding 6-1 lead with 14:17 to go in the half. Bates got three of the next four scores to close it to 7-4, but didn't get any closer. D'Antonio netted her 16th goal on a free-position shot with 3:43 left in the half for an 8-4 halftime lead.

O'Neill found a seam to score her 34th goal 2:18 into the second half and cut the deficit to 8-5. But Hamilton answered with seven straight goals to put the game out of reach. Monks scored twice in the decisive run, and Schultz's 13th goal put the Continentals ahead 15-5, invoking the running clock.

Bates (5-5, 2-5) mounted a 4-0 run, but it came too late to ultimately make a difference. Shrewsbury scored on a fast break on a feed from Dannis with 3:50 left. Bates' dose of added aggression led to three straight free-position goals by the Bobcats -- two by Getsinger and a third by Shrewsbury -- to close the gap to 15-9 with 1:50 left. Friedman scored the Continentals' second extra-man goal of the day, and her 22nd goal of the year, with 13 seconds left to account for the final score.

The Continentals held a 25-20 shot advantage. The Bobcats (5-5, 2-5) scored half of their eight goals on free-position shots.

Hamilton travels to William Smith College for a non-conference game on Tuesday, April 10.