No. 18 women's lacrosse season ends in OT loss at Trinity
---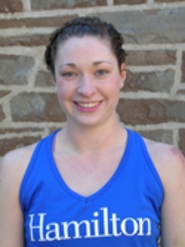 Shea Kusiak scored on a free-position shot with 3:34 left in overtime to lift nationally ranked No. 4 Trinity College to a 9-8 win against No. 18 Hamilton College in a 2012 NESCAC Championship semifinal at Trinity's Sheppard Field on May 5.

Trinity (15-1 overall) advances to the conference final to play the winner of Amherst College and Middlebury College at home on Sunday, May 6. Amherst and Middlebury played later Saturday afternoon at Trinity. Hamilton, which lost a total of 10 games from 2007 to 2011, finished the year with an overall record of 7-10.

Kusiak's goal was the only one scored during the six-minute extra period, which is not sudden death and is played in its entirety. The Continentals nearly grabbed the lead just before Kusiak scored, but one shot sailed over the goal, and the second was stopped by Bantams goalie Olivia Whitney (four saves).

Trinity -- the championship's top seed for the third straight year -- was led on offense by Caroline Hayes' three goals. Megan Leonhard chipped in two goals and Kusiak had an assist to go with her game-winning goal. Caite Irvine, Kaitlin Hildebrand and Hadley Duncan tallied one goal each. Irvine won five draw controls and Elizabeth Beckler caused three turnovers. Hillary McNamara posted three ground balls and three caused turnovers.

Madison Beres '15 scored three goals for Hamilton, which was the seventh seed and looking for its second upset in as many games. The Continentals knocked off No. 2 seed Colby College 9-4 in the quarterfinals on April 28.

Katie D'Antonio '14 added one goal and one assist for Hamilton. Libby Schultz '12, Mariah Monks '13, Emily Brodsky '14 and Rachel Friedman '13 notched one goal each. Dewi Caswell '14 made three saves in the first half before she gave way to Kari Koga '15, who recorded two saves in the second half and overtime.

The Continentals led 8-4 with 24:01 left in regulation when Beres scored Hamilton's last goal of the afternoon. Leonhard and Hayes cut the Bantams' deficit in half with goals to make it 8-6 with 19:38 remaining.

It seemed the Continentals would hold off Trinity and pull off the upset as the minutes rolled off the clock without another shot finding the back of the net. But Hayes made it 8-7 with 3:59 left, and Hildebrand netted the equalizer on a free-position shot with 1:53 remaining.

The Bantams seized a 2-0 lead in the first minute only to see Hamilton roar back with four straight goals for a 4-2 advantage midway through the first half. Trinity scored back-to-back goals to tie it at 4 with 8:18 left in the half. Friedman put the Continentals back in the lead, and Monks gave Hamilton a 6-4 advantage on a free-position goal just 11 ticks before the break.

The Continentals had a 3-6 record against ranked teams and owned the highest strength of schedule of any team in Division III. Hamilton was making its first appearance in the NESCAC Championship as the College's lacrosse teams competed in the Liberty League from 1996 to 2011. The Continentals played in the NCAA championship every year from 2007 to 2011, and won the national title in 2008.

The Bantams edged Hamilton 8-7 at home two weeks ago as part of a 13-game win streak to open 2012. The defending NESCAC champions extended their win streak to five in this event.