No. 18 women's lacrosse topped at No. 6 Middlebury
---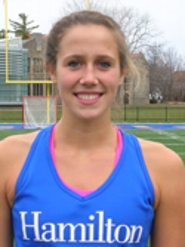 Liza Herzog scored three goals and added two assists to lead nationally ranked No. 6 Middlebury College to a 10-4 NESCAC win against No. 18 Hamilton College in Middlebury, Vt., on April 4.

Elizabeth Garry and Katie Ritter scored two goals apiece and Michaela Colbert chipped in one goal and one assist to help keep Middlebury undefeated (8-0 overall, 6-0 NESCAC). Catherine Fowler and Ellen Halle notched one goal apiece. Fowler won three draw controls, Hannah Deoul scooped up a game-high five ground balls and Lily Nguyen made six saves.

Rachel Friedman '13 paced Hamilton's offense with one goal, two assists and three draw controls. Emily Brodsky '14, Hannah Hoar '13 and Madison Beres '15 scored one goal each. Libby Schultz '12 was credited with her team-high 18th assist. Dewi Caswell '14 started in goal and made three saves. Kari Koga '15 replaced Caswell at the start of the second half and stopped six shots.

The Continentals (3-6, 2-4) trailed by just one goal at 5-4 after one half, but they were held scoreless during the final 30 minutes. Five different players scored goals in the second half for the Panthers.

Hamilton came out strong and held a 2-0 lead at the 21:13 mark. Brodsky opened the scoring by cutting to the goal on a feed from Schultz before Friedman rolled around the crease and found the back of the net.

Middlebury answered with a three-goal run and took a 3-2 lead on a tally by Colbert with 15:53 remaining in the first half. Herzog assisted on the first two goals.

Beres tied the game before Ritter scored a free-position goal to give the Panthers a 4-3 lead with 8:33 remaining. Herzog made it 5-3 before Hoar closed out the half with a goal for the Continentals with 1:23 remaining. That proved to be Hamilton's final goal as the Panther defense clamped down.

The Panthers enjoyed a 27-14 shot advantage, including 16-3 in the second half. The Continentals committed 24 turnovers and were successful on 14 of 22 clear attempts.

Hamilton travels to No. 19 Bates College for another NESCAC game on Saturday, April 7.