No. 19 women's lacrosse advances to NESCAC semifinals
---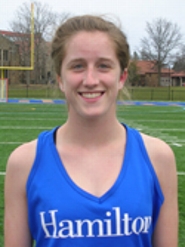 Hamilton College's Katie D'Antonio '14 scored three goals and the nationally ranked No. 19 Continentals edged No. 6 Bowdoin College 10-9 in a 2013 NESCAC Championship quarterfinal at Bowdoin's Ryan Field on April 27.

Hamilton -- seeded sixth for the NESCAC championship -- advances to the semifinals at Trinity College on Saturday, May 4. The Continentals will take on top seed and unbeaten Trinity for the second straight year. Middlebury College and Colby College meet in the other semifinal.

Hamilton (9-7 overall) tied for sixth place in the conference standings with a 4-6 record. The Continentals lost 10-9 in overtime against the Polar Bears at Hamilton back on March 22. In 2012, the Continentals upset No. 2 seed Colby 9-4 in the NESCAC quarterfinals, and lost in overtime at Trinity in the next round. Hamilton improved to 3-5 this year against ranked teams.

Bowdoin (13-3) finished third in the conference standings with an 8-2 record and was the No. 3 seed for the championship. The Polar Bears are ranked third in the New England Region by the NCAA, and had won their last seven games. Bowdoin is just 5-11 in the NESCAC championship.

D'Antonio leads the Continentals with 34 goals and 47 points. Rachel Friedman '13 scored two goals on free-position shots and has found the back of the net 178 times in her Hamilton career. Ashleigh Stephan '15, Margaret Gabriel '16, Lauren Brady '14, Hannah Hoar '13 and Emily Brodsky '14 notched one goal each. Hannah Withiam '16 won five draw controls and Dewi Caswell '14 made eight saves, including six in the first half.

Carolyn Gorajek posted four goals and an assist for the Polar Bears. Lindsay Picard and Betsy Sachs added two goals apiece. Sachs had to leave the game with 16:38 left in the second half when she picked up her second yellow card of the day. Jordan Smith scored a goal and Molly Popolizio was credited with an assist. Picard won five draw controls and Smith scooped up two ground balls. Tara Connolly, who leads the NESCAC in save percentage, stopped 14 shots and caused two turnovers.

A pair of goals by Picard gave Bowdoin a 2-1 advantage in the first five minutes of the first half. The hosts extended their lead to 4-2 after consecutive goals by Gorajek and Sachs less than 10 minutes in.

The Continentals bounced back and quickly tied the score as both D'Antonio and Friedman found the back of the net twice in a 5-0 run for the visitors that bridged the first and second halves. Hamilton held a slim 5-4 lead at the break.

Hamilton owned a 7-4 advantage with less than 22 minutes to play but Sachs and Gorajek scored twice in a span of 63 seconds and pulled Bowdoin within a goal. The Continentals responded with a pair of goals 75 seconds apart courtesy of D'Antonio and Gabriel, and pushed the lead back to 9-6 with 13:29 remaining.

Bowdoin again cut its deficit to one as Gorajek and Smith scored and it was 9-8 with 7:41 to play. But Hamilton answered again on a goal by Hoar at 3:59. Bowdoin climbed within a single goal one more time as Gorajek found the back of the net with 3:17 left.

Hamilton won the ensuing draw control but committed a turnover with less than three minutes remaining. Bowdoin made one final push downfield and garnered a free-position shot with under two minutes to go. But Caswell stopped a point-blank shot by Picard and the Continentals ran out the clock.

The Continentals held a 27-19 shot advantage and picked up 15 ground balls to nine for Bowdoin. Hamilton scored four goals on 12 free-position shots. The Polar Bears recorded four goals on six free-position shots in the second half. Bowdoin leads the conference in caused turnovers but the Continentals committed just nine.