No. 19 women's lacrosse rallies for OT win
---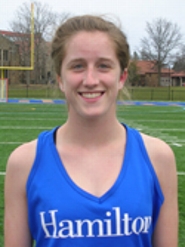 Hamilton College's Katie D'Antonio '14 scored a free-position goal with 34 seconds left in overtime and lifted the nationally ranked No. 19 Continentals to a 12-11 non-conference win against No. 13 Ithaca College at Ithaca's Higgins Stadium on April 23.

Michelle Avery gave the host Bombers an 11-10 lead on her goal with 13 seconds left in the second half while Ithaca was down a player after Kim Armbruster received her second yellow card of the day with 2:01 remaining. Alice Grant '14 won the draw control for Hamilton and Lauren Brady '14 knotted the score at 11-11 with just 1.3 seconds to go.

Caroline McCarthy '16 led the Continentals with four goals and D'Antonio chipped in two goals and one assist. Rachel Friedman '13 filled the stat sheet with a goal, two assists, six draw controls, three ground balls and two caused turnovers.

Emily Brodsky '14 posted one goal, two assists and five ground balls for the winners. Ashleigh Stephan '15, Margaret Gabriel '16, Brady and Hannah Hoar '13 finished with one goal each. Kathryn Maiorano '14 added one helper. Madison Beres '15 started in goal but was relieved by Dewi Caswell '14 with 17:27 left in the first half. Caswell made seven saves in 53-plus minutes.

Armbruster scored three goals for the Bombers before she was sent off for good with her second yellow card late in the second half. Tracy Rivas recorded two goals and one assist, and Kaitlyn Hoffay and Molly Fischer tallied two goals apiece.

Nikki Dahl did a little bit of everything with a goal, two assists, three ground balls, two caused turnovers and two draw controls for Ithaca. Avery ended up with a goal and an assist, and Becky Guzzo and Riley Marion picked up one assist apiece. Jess Worthman stopped seven shots and scooped up four ground balls.

The Bombers (10-5 overall) grabbed a 5-1 lead in the first half and knocked Beres out of Hamilton's goal. Hoffay's 10th goal this year gave Ithaca a four-goal advantage with 12:53 left.

The Continentals (8-7) responded by scoring the next eight goals. McCarthy had all four of her goals during the run that began with 8:01 remaining in the first half on a goal by D'Antonio. McCarthy scored with 51 seconds left in the half, and Hamilton led 7-5 at the break. The visitors held a 16-9 shot advantage in the first 30 minutes. McCarthy notched her 11th this season on a feed from Brodsky with 20:10 remaining in the second half, and Friedman found Brodsky for her 14th goal and a 9-5 lead with 16:09 left.

Just when it seemed the Continentals were going to run away with this one, the Bombers ripped off five straight goals and reclaimed the lead. Dahl's 26th goal with 13:26 remaining was Ithaca's first score in more than 29 minutes. Fischer's 13th goal tied it up at 9-9 with 9:11 left, and Armbruster put the Bombers back in front on her 22nd goal with 7:21 remaining.

D'Antonio passed to Friedman, who tied the score at 10-10 on her 27th goal with 4:07 left, and that set up the wild finish. Ithaca dominated shots in the second half with a 17-6 cushion.

The teams combined for six turnovers and just three shots in the six-minute overtime. Caswell made a save with 3:43 left in the extra period. Worthman stopped a free-position shot by Friedman with 1:13 remaining.

The Bombers, who had won their previous six games, held a 27-24 edge in shots and scored four times on six free-position shots. Hamilton dominated draw controls, 19-8, and enjoyed a 25-18 advantage in ground balls, including 6-0 in overtime.

The Continentals play an opponent to be determined in the 2013 NESCAC Championship quarterfinals on Saturday, April 27. Hamilton will know who and where they will be playing on Wednesday night, April 24.