No. 2 women's lacrosse scores season-high 18 goals in win
---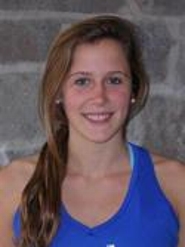 Rachel Friedman '13 scored a career-high six goals to lead nationally ranked No. 2 Hamilton College to an 18-7 win against No. 20 St. John Fisher College in a non-league women's lacrosse game at Hamilton's frigid Steuben Field on March 26.

Friedman has 11 goals in the last two games, and a team-high 21 this year. Sarah Bray '11 posted a career-high seven assists and scored two goals. Bray's nine points marked another career best. Kate Otley '12 and Anne Graveley '11 chipped in three goals apiece, and Martha Plack '14 scored two goals. Ashley Allen '12 added one goal and one assist, and Katie D'Antonio '14 scored her fourth goal this year.

Bray added four draw controls and six ground balls. Meg Pengue '12 led the defense with four caused turnovers and six ground balls, and Graveley caused three turnovers. The Continentals finished with 17 caused turnovers, and helped force 29 turnovers by the Cardinals. Nicole Nietlisbach '13 made two saves in her second career start for Hamilton.

Melissa Leonhard '13 paced St. John Fisher's offense with three goals, and leads the team with 21. Taylor Hughes '14 had one goal and two assists, and Meg Merriam '11 finished with one goal and one assist. Mary Stimson '11 and Jackie Maynard '11 scored one goal apiece, and Jill Zerrillo '14 was credited with an assist.

Merriam won four draw controls, Julia Lauria '12 scooped up four ground balls and Stimson and Shannon McDermott '12 caused two turnovers apiece. Caroline Trpcevski '14 stopped nine shots.

The Continentals (4-1 overall) scored the first seven goals in a 16-6 win against Nazareth College on Friday, and opened this game with a 6-0 run. Friedman scored the first two, Otley made the score 3-0 with 22:51 left in the half and Graveley scored 70 seconds later. Friedman notched her third of the six-goal spurt with 21:20 remaining, and Allen scored her fifth of the year to end the run with 18:46 left.

The Cardinals (4-2) countered with three straight goals, including two by Leonhard. Hughes' 14th goal of the year was sandwiched between Leonhard's goals. Leonhard put St. John Fisher on the scoreboard with 18:04 remaining in the half, and her free-position goal with 10:14 left pulled the Cardinals within 6-3.

Hamilton closed out the half with two goals, and made it three in a row early in the second half. Friedman's fourth of the day made the score 7-3 with 7:16 remaining in the half, and Graveley gave the Continentals an 8-3 advantage at the break as she scored on a feed from Bray with 47 seconds left. Graveley found the back of the net after another pass from Bray 2 minutes, 4 seconds into the second half for a 9-3 cushion. St. John Fisher didn't get closer than five goals the rest of the afternoon.

Hamilton enjoyed a 42-11 shot advantage, and picked up 34 ground balls to 17 for the Cardinals. The Continentals were successful on 19 of 21 clear attempts, while St. John Fisher was just 13 of 24 on clears. Hamilton has won all four meetings with the Cardinals. St. John Fisher's win streak ended at four games. The Cardinals had scored 13 or more goals in each of their first five games.

The Continentals are off until Tuesday, April 5, when they host nationally ranked Middlebury College for another non-league game. Fisher travels to Elmira College for an Empire 8 contest on Friday, April 1.