No. 2 women's lacrosse returns home for 10th straight win
---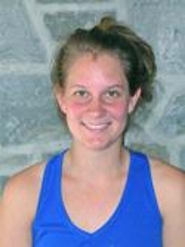 Sarah Bray '11 tied a career high with five goals and added an assist to lead nationally ranked No. 2 Hamilton College to a 15-6 win against William Smith College in a Liberty League women's lacrosse game at Hamilton's Steuben Field on April 22.

The Continentals (12-1 overall, 5-0 Liberty) won their 10th straight game. Hamilton has won 44 of its last 45 home games. The Continentals host the University of Rochester for another league game on Saturday, April 23.

The other time Bray scored five goals at Hamilton was on May 18, 2008, when the Continentals defeated Franklin & Marshall College 13-6 to capture the NCAA championship. She leads the team with 31 assists and 62 points. She also scooped up six ground balls and won four draw controls. Bray is one of just two players in team history with more than 100 career assists (103), and ranks second in career points with 230.

Anne Graveley '11 scored three goals and had an assist for Hamilton. Libby Schultz '12 and Rachel Friedman '13 chipped in two goals apiece. Friedman leads the team with 48 goals. She recorded four ground balls, three caused turnovers and three draw controls. Ashley Allen '12 and Mariah Monks '13 added one goal and one assist apiece. Katie D'Antonio '14 was credited with three assists, and Amy Marchesi '13 tallied her second goal this year.

Dewi Caswell '14 made five saves in her first start for the Continentals. Meg Pengue '12 led the defense with three caused turnovers, and Lauren Sokol '12 picked up five ground balls and caused two turnovers.

Six different players scored one goal for William Smith. Rosie Scheibel '12 had one goal, one assist and two caused turnovers. Scheibel is tied for the team lead with 27 goals. Callie Frelinghuysen '12 registered one goal, five ground balls and two caused turnovers. Katie Dexter '13 came off the bench to win three draws and cause two turnovers. Jesse Wilson '13 stopped seven shots.

The Herons (5-8, 3-3) led 3-2 with 17:20 left in the first half when Katherine Vesce '12 scored her 23rd goal. Hamilton countered with five straight goals to take the lead for good. Bray tied the score with 6:09 remaining, and Graveley put the Continentals in front 4-3 with 4:30 left. Bray passed to Graveley for another goal with 21 seconds remaining, and Bray made the score 6-3 on a pass from D'Antonio with 0.6 seconds showing on the clock.

Allen notched her 10th goal this year on a free-position shot for a 7-3 lead with 22:32 left in the second half. Scheibel found Emily Leahy '13 for Leahy's seventh goal to pull William Smith within three 25 seconds later. Hamilton responded with a three-goal run to take control midway through the half. Graveley scored her 20th of the year with 17:38 remaining, Schultz tallied her 19th with 16:19 left and Friedman made the score 10-4 on a free-position goal 48 seconds later.

The Continentals held a 29-16 shot advantage, and picked up 30 ground balls to 19 for the Herons. Hamilton was successful on 16 of 22 clear attempts, and William Smith was 9-for-15. The Continentals have won seven straight games between the two teams.

The Herons host Rensselaer in league action on Friday, April 29.