No. 2 women's lacrosse routs Rochester
---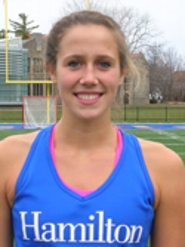 Rachel Friedman '13 scored four goals to lead nationally ranked No. 2 Hamilton College to a 14-3 win against the University of Rochester in a Liberty League women's lacrosse game at Hamilton's Steuben Field on April 23.

The Continentals (13-1 overall, 6-0 Liberty) clinched a spot in the 2011 Liberty League championship with their 11th straight win. Hamilton is in first place in the league standings with two games left. The Continentals have won 45 of their last 46 home games. Hamilton travels to Skidmore College for a league game on Friday, April 29.

Friedman leads the team with 52 goals, and already has 93 in her career for the Continentals. She also leads the league in goals per game.

Sarah Bray '11 chipped in two goals and one assist for Hamilton, and Kate Otley '12 found the back of the net twice. Libby Schultz '12, Anne Graveley '11, Martha Plack '14 and Amy Marchesi '13 all had one goal and one assist. Ashley Allen '12 and Becca Green '11 tallied one goal apiece, and Katie D'Antonio '14 was credited with one assist.

Schultz and Allen picked up three ground balls apiece, and Graveley won three draw controls. Schultz and Marchesi led the defense with two caused turnovers apiece. Dewi Caswell '14 needed to make just two saves to record her second win in goal for the Continentals.

Charlotte Clements '11, Sarah Skinner '14 and Megan Battin '12 scored one goal each for Rochester. Niki Holmes '12 had her team-leading 11th assist and 31st point, and three draw controls. Battin added four ground balls and three draw controls. Frances Cooley '13 made four saves, scooped up four ground balls and caused two turnovers.

Hamilton breezed to a 12-0 lead at the break after the Continentals outshot the Yellowjackets 22-1 in the opening 30 minutes. Green's first goal of the year made it 5-0 with 21:26 left. Friedman scored on a feed from Bray for a 10-0 lead with 10:44 remaining. Marchesi's third of the year made it 12-0 with 4:25 left.

Rochester (2-10, 1-5) finally got on the scoreboard with 25:03 left in the second half when Skinner notched her seventh goal of the year. The Yellowjackets lost their sixth game in a row.

Hamilton finished with a 31-7 shot advantage, and won 13 draws to six for Rochester. The Continentals were successful on 10 of 12 clear attempts, while the Yellowjackets were just 10-for-19 on clears. Hamilton has won the last nine meetings between these two programs, and leads the all-time series 26-5.

Rochester travels to Ithaca College for a non-league game on Tuesday, April 26.