No. 3 Women's lacrosse advances to sixth straight league final
---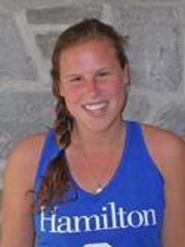 Libby Schultz '12 scored three goals and added an assist to lead nationally ranked No. 3 Hamilton College to a 10-7 win against Skidmore College in a 2011 Liberty League women's lacrosse championship semifinal at Hamilton's Steuben Field on May 6.

Top-seeded Hamilton (16-1 overall) advanced to its sixth straight league final. The Continentals will play Union College -- a 9-8 winner against Rensselaer in the second semifinal -- in the championship game at Hamilton on Saturday, May 7, at 3 p.m. The Continentals and Union will be meeting in the final for the sixth year in a row.

Hamilton extended its win streak to 14 games and is 48-1 against league opponents since the start of 2007. The Continentals have captured four consecutive league postseason championships.

No. 4 seed Skidmore (10-8) lost 13-7 at home against Hamilton just one week ago. The Thoroughbreds were making their first appearance in the league championship since 2006.

Rachel Friedman '13 chipped in two goals and one assist for the Continentals. Friedman leads the team with 63 goals and 75 points. Katie D'Antonio '14 added two goals, and Sarah Bray '11 had one goal and one assist. Anne Graveley '11 and Kate Otley '12 tallied one goal apiece, and Mariah Monks '13 was credited with one assist.

Dewi Caswell '14 made six saves in her first postseason start for Hamilton. Bray helped lead the defense with four ground balls and four caused turnovers, and Meg Pengue '12 also caused four turnovers. Friedman won four draw controls and Otley captured three.

Kimberly Segalas '11 paced the Skidmore offense with four goals. Lindsay Stavola '11 had one goal and two assists, and Lexi Melville '13 and Robin Fetterolf '14 notched one goal apiece. Rachel Klein '12 stopped six shots and scooped up four ground balls. Leslie Stebbins '12 picked up four ground balls and Ali Evans '13 caused two turnovers. Stavola and Abbie Hamlin '12 won two draws apiece.

The Continentals held a slim 2-1 lead at the break after a first half that produced more turnovers (19) than shots (18). Stavola tied the score with her team-high 52nd goal on a free-position shot with 27:24 left. Schultz put Hamilton back in front about four minutes later, only to have the Thoroughbreds tie the score again on a free-position goal by Segalas with 21:33 remaining.

Otley put the Continentals ahead with her own free-position goal 32 seconds later. Skidmore tied things up for the last time at 4-4 with 19:00 left when Melville scored her 16th goal.

Hamilton responded with the next four goals to seize control of this semifinal. D'Antonio put the Continentals in the lead for good on a feed from Schultz just 20 seconds after Melville's goal. Graveley followed with her 23rd goal at 17:24 remaining, and Schultz scored her 26th with 16:06 left. Friedman made the score 8-4 on a free-position goal with 14:51 remaining.

The Thoroughbreds didn't get closer than three goals the rest of the way. Segalas scored three more times in the final 8 minutes, 17 seconds.

Hamilton held a 22-17 shot advantage, and won 12 draws to seven for Skidmore. The Thoroughbreds owned an 18-17 edge in ground balls. The Continentals lead the all-time series, 29-8, and have won the last seven meetings.