No. 2 women's lacrosse captures league regular season title
---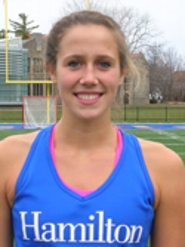 Rachel Friedman '13 scored a career-high seven goals to lead nationally ranked No. 2 Hamilton College to a 14-6 win against Union College in a Liberty League game at Union's Frank Bailey Field on April 30.

Hamilton (15-1 overall, 8-0 Liberty) clinched its fourth league regular season title in the last five years. The Continentals have a 39-1 league record in the regular season during that span. Hamilton extended its win streak to 13 games.

The Continentals are the No. 1 seed and hosts for the 2011 league championship. The semifinals are Friday, May 6, and the final is slated for Saturday, May 7. All three games will be played at Steuben Field. Hamilton takes on No. 4 seed Skidmore College at 2 p.m. in one semifinal, while No. 2 Union takes on No. 3 Rensselaer in the second semifinal at 4. The Continentals will be aiming for their fifth consecutive tournament crown.

Friedman leads the team with 61 goals, and has 102 in her Hamilton career. She also scooped up three ground balls.

Sarah Bray '11 chipped in four goals, Ashley Allen '12 added two and Martha Plack '14 scored her 15th this year. Katie D'Antonio '14 and Mariah Monks '13 were credited with one assist apiece. Plack, Lauren Sokol '12, Anne Graveley '11 and Meg Pengue '12 won two draws each. Dewi Caswell '14 made six of her nine saves in the second half.

The Dutchwomen (9-7, 6-2) suffered their third loss in the last four games. Kristin Joyce '11 scored three goals and Melissa Hine '11 added a goal and an assist to lead the Union attack.

Hamilton broke a 1-1 tie with four consecutive goals -- the last two by Friedman -- to take a 5-1 lead with 12:02 to play in the first half. The teams traded scores as Union's Joyce scored her first two of the day, and Chelsea Charette '11 added a score to cut Hamilton's lead to 8-4 with 1:24 remaining in the half. Hamilton regained momentum on Friedman's third goal just three seconds before the break.

The Continentals opened the second half with three consecutive goals to put the game out of reach. Friedman scored on a free-position shot at 27:34. Just over 10 minutes later, Bray added her fourth at 17:09. Friedman scored on another free-position shot to put Hamilton up 12-4 at 11:01.

After Hine and Joyce added goals at 9:57 and 8:45, Friedman scored her seventh at 4:48. It was her fourth free-position goal of the game. Allen closed out the scoring at 1:07.

Union goaltender Alexis Deeb made five saves. Both teams took 23 shots, while Hamilton had a 13-12 edge on ground balls.