No. 2 women's lacrosse coasts to second win
---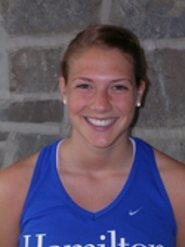 Rachel Friedman '13 and Hannah Hoar '13 scored three goals apiece to lead nationally ranked No. 2 Hamilton College to a 14-6 non-league win against Wheaton College (Mass.) at the Wide World of Sports Complex in Kissimmee, Fla., on March 18.

Hamilton (2-0 overall) held a comfortable 12-3 advantage at the half. Paige Engeldrum '13 led the Continentals' stingy defense with four ground balls and four caused turnovers. Wheaton (2-2) was playing its third game in four days in Florida.

Friedman has seven goals in two games this year. She added two draw controls against the Lyons. Ashley Allen '12 chipped in two goals and one assist. Kate Otley '12 scored two goals, Libby Schultz '12 had one goal and two assists and Sarah Bray '11 recorded one goal and one assist.

Anne Graveley '11 posted one goal and two draw controls, Mariah Monks '13 notched one goal and Caroline Morgan '13 was credited with two draw controls.

Sam Elie '12 started in goal and made five saves in the first half. Elie was replaced by Nicole Nietlisbach '13 at the start of the second half, and Nietlisbach stopped three shots in 20-plus minutes. Dewi Caswell '14 made her first collegiate appearance and made one save in nine-plus minutes.

Hamilton returns north for its home opener with No. 8 SUNY Cortland in another non-league game on Tuesday, March 22.