No. 2 women's lacrosse pushes win streak to eight
---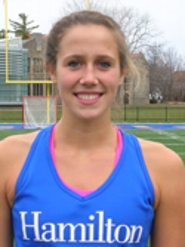 Rachel Friedman '13 scored five goals and added one assist to lead nationally ranked No. 2 Hamilton College to a 14-7 win against Clarkson University in a Liberty League women's lacrosse game at Clarkson's Hantz Turf Field on April 16.

Hamilton (10-1 overall, 4-0 Liberty) has won eight straight games, including three on the road in the last four days. The Continentals haven't allowed more than seven goals in any game during the streak.

Friedman added six ground balls, four draw controls and two caused turnovers. She leads the team with 41 goals and 50 points.

Kate Otley '12 and Anne Graveley '11 chipped in three goals apiece. Katie D'Antonio '14, Caroline Morgan '13 and Amy Marchesi '13 added one goal each. Libby Schultz '12, Ashley Allen '12 and Mariah Monks '13 were all credited with one assist.

Meg Pengue '12 led the defense with four caused turnovers and four ground balls. Nicole Nietlisbach '13 made two saves.

Clarkson (1-9, 0-6) was led by Alyssa Cristaldi, who recorded two goals and one assist. Katie VanDeValk and Saryn Campbell posted two goals apiece. Campbell also won seven draws. Hannah Walters made 21 saves.

Hamilton scored the first four goals and never trailed. Friedman scored two goals during the run and Otley made it 4-0 on her first of the day with 16:39 left in the half.

Campbell finally put the Golden Knights on the scoreboard with 10:40 remaining. Clarkson didn't get closer than three goals the rest of the afternoon. The Continentals led 9-3 at the break.

The Golden Knights pulled within 10-5 early in the second half, but Hamilton went on another 4-0 run to clinch the victory. Friedman had three goals and one assist during the spurt. Her last goal made it 14-5 with 16:23 left.

The Continentals enjoyed a 45-11 shot advantage, and had 32 ground balls to 13 for Clarkson. The Golden Knights committed 29 turnovers, and were successful on just half of their 22 clear attempts.

Hamilton travels to Williams College for a non-league game on Tuesday, April 19.