No. 2 women's lacrosse rallies to win at Williams
---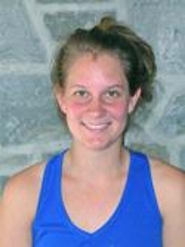 Sarah Bray '11 scored four goals and had four assists to rally nationally ranked No. 2 Hamilton College to a 14-9 win against No. 18 Williams College in a non-league game at Williams' Renzie Lamb Field on April 19.

Rachel Friedman '13 chipped in five goals for Hamilton, which won its ninth straight game, and the team's fourth in seven days away from home. Libby Schultz '12 added two goals and one assist. Ashley Allen '12, Anne Graveley '11 and Caroline Morgan '13 tallied one goal each. Martha Plack '14 was credited with one assist.

Graveley picked up three ground balls and won four draw controls. Friedman claimed five draw controls as the Continentals held a 17-8 advantage in that category.

Margie Fulton paced the Ephs with three goals, and Becca McGovern had two to go with three caused turnovers. Kaitlin Ellis recorded one goal and one assist, and Ali Piltch made 10 saves.

Hamilton (11-1 overall) scored the first three goals for a 3-0 lead 3 minutes, 30 seconds into the first half. After the teams traded one goal apiece, Williams ran off six in a row for a 7-4 advantage at the break.

The Continentals opened the second half with three straight goals to tie the score at 7-7 with 24:35 left. Emily Whicker gave the Ephs (8-6) their final lead with a free-position goal 41 seconds later.

Graveley tied the score at 8-8 with 21:50 remaining, and Friedman put Hamilton in the lead for good with 17:43 left. Friedman made the score 10-8 with 15:12 remaining, and it remained a two-goal game until Schultz scored with 6:54 left. Bray scored two goals 59 seconds apart, and Morgan completed the 7-0 run with 4:47 remaining.

The Continentals enjoyed a 29-19 shot advantage. Bray leads the team with 30 assists and 56 points, and Friedman is tops with 46 goals.

Hamilton returns home to face William Smith College for a Liberty League game on Friday, April 22.