No. 2 women's lacrosse slips by St. Lawrence
---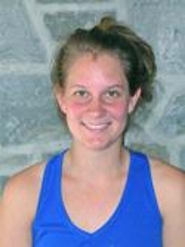 Sarah Bray '11 scored three goals and added two assists as nationally ranked No. 2 Hamilton College held off upset-minded St. Lawrence University for a 9-7 win in a Liberty League game at St. Lawrence's Hall-Leet Stadium on April 15.

Bray put Hamilton in the lead for good at 8-7 on her final goal of the day with 3:26 left in the second half. Bray added five ground balls, three caused turnovers and two draw controls.

Martha Plack '14 clinched the victory with her second goal of the afternoon with 24 seconds remaining. Libby Schultz '12 and Katie D'Antonio '14 chipped in two goals as well.

Rachel Friedman '13 scooped up five ground balls and won two draws, and Anne Graveley '11 was credited with two draw controls for the Continentals. Meg Pengue '12 led the defense with five caused turnovers. Sam Elie '12 made four saves.

Kim Morse led the Saints' offense with three goals, and Stephanie O'Rourke had one goal and one assist. O'Rourke also had five ground balls and three caused turnovers. Kelsey Redpath won three draws, and Hannah Corkery and Regina Rogers caused three turnovers apiece. Anna Marchand stopped seven shots.

Hamilton (9-1 overall, 3-0 Liberty) led 4-1 at the half. St. Lawrence roared back to tie the score with three straight goals at the beginning of the second half. Schultz put the Continentals back in front 5-4 with 18:45 left.

The Saints (5-8, 3-3) tied the score 25 seconds later on O'Rourke's goal, and grabbed the lead for the first time on a goal by Kendall Harty with 16:00 remaining. Hamilton took the lead right back as Bray assisted on a goal by Schultz, and another by Plack that made the score 7-6 with 7:08 left.

About one minute later, St. Lawrence's Morse tied the score for the last time. That set the stage for the late goals by Bray and Plack. The Continentals finished with a 20-14 shot advantage.

Hamilton will aim for its eighth straight win with another league game at Clarkson University on Saturday, April 16.