No. 2 women's lacrosse slips past Skidmore
---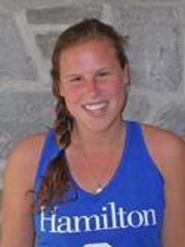 Libby Schultz '12 scored a game-high three goals to lead nationally ranked No. 2 Hamilton College to a 13-7 win against Skidmore College in a Liberty League game at Skidmore's Wachenheim Field on April 29.

Hamilton (14-1 overall, 7-0 Liberty) won its 12th straight game and improved to 7-0 away from home this year. The Continentals can clinch their fourth league regular season title in the last five years with a victory at league rival Union College on Saturday, April 30. Union -- 6-1 in the league -- would tie Hamilton for first place with a win against the Continentals.

Skidmore (10-7, 5-3) slipped to fourth place in the league standings behind Rensselaer, which is 5-2 in the league. The top four teams qualify for the league championship, which is held at the No. 1 seed on Friday and Saturday, May 6 and 7. The Thoroughbreds have lost three of their last four games.

Katie D'Antonio '14 and Rachel Friedman '13 chipped in two goals and two assists apiece for Hamilton. D'Antonio added three draw controls. Martha Plack '14 scored one goal and was credited with three assists.

Sarah Bray '11 posted one goal, one assist, six ground balls and three caused turnovers. Ashley Allen '12, Anne Graveley '11, Kate Otley '12 and Caroline Morgan '13 notched one goal each. Dewi Caswell '14 made eight saves, including six in the second half, and caused two turnovers.

Kimberly Segalas paced Skidmore with two goals, one assist and three draw controls. Summer Segalas scored two goals. Ali Evans had three ground balls and three draw controls. Lindsay Stavola, who entered the afternoon with a league-leading 81 points, was held to one assist.

Leslie Stebbins led the defense with three caused turnovers and three ground balls. Rachel Klein stopped seven shots and scooped up three ground balls.

Robin Fetterolf gave the Thoroughbreds an early 1-0 lead with her 13th goal. The Continentals responded with five in a row. D'Antonio scored the first two goals, and her 15th of the year put Hamilton ahead to stay at 2-1. Plack had a goal and two assists during the run. Allen's 12th goal gave the Continentals a 5-1 lead with 18:40 left.

Skidmore pulled within 5-3 on goals by Lexi Melville and Summer Segalas within the next 38 seconds. Hamilton then took control of the contest with four straight goals.

Friedman scored with six seconds left in the half to give the Continentals a 6-3 advantage at the break. Schultz tallied the next three goals to get to 23 this year. Her last one of the afternoon on a free-position shot made the score 9-3 with 20:38 remaining. The Thoroughbreds didn't get closer than four goals the rest of the way.

Hamilton held a 23-16 shot advantage, and picked up 24 ground balls to 16 for Skidmore. The Thoroughbreds enjoyed a 15-7 edge in draw controls.