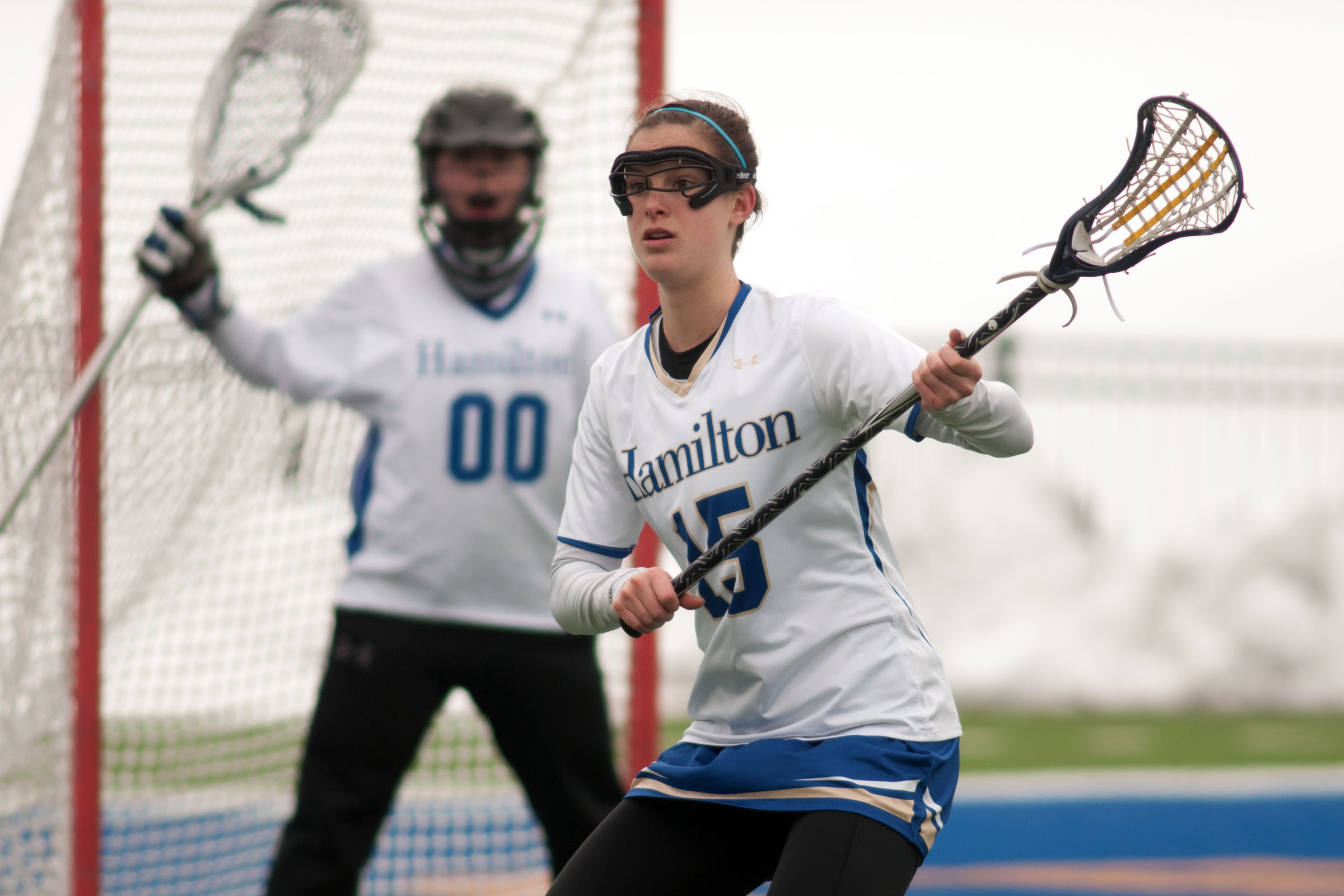 The nationally ranked No. 20 Hamilton College Continentals won for the third time in four outings, rallying to edge SUNY Oneonta 7-6 in non-conference action at Hamilton's Steuben Field on Thursday afternoon.

Box score

The Continentals (4-3 overall) trailed 4-1 late in the opening half and scored the game-winning goal with less than five minutes left in regulation.

Hamilton took the lead for good on a goal by Morgan Fletcher '17 with 4:28 remaining. Fletcher bounced a shot between the legs of Oneonta goaltender Amanda Reichardt '16 for her second goal this season. Hamilton won the ensuing draw control, leading to a shot that Reichardt saved to set up three Red Dragon possessions in the final 4:04. Oneonta turned the ball over twice and took two shots – one sailed high and the other was saved by Hannah Rubin '17.

Margaret Gabriel '16 led Hamilton with three assists and a goal. Gabriel took over the team scoring lead, raising her season total to 19 points. She assisted on a goal by Katie D'Antonio '14 with 39 seconds left in the first half that started the Continental rally. Gabriel picked up another assist 21 seconds into the second half when Hannah Withiam '16 picked up her first goal of the spring.

After Casey Sarle '14 scored an unassisted goal to put the Red Dragons up 5-3, Hamilton scored twice in under a minute to tie the game. Ashleigh Stephan '15 scored with 20:17 to go and Gabriel drew the Continentals even 57 seconds later. They took the lead midway through the period on a goal by Emily Randall '16 (the first of her career).

Oneonta (5-3) knotted the score at 6-6 on a free-position goal by Jillian Donodeo '15 just 19 seconds after a Hamilton player was sent off the field with a yellow card.

Catherine Clark '16 and Chelsea Collins '14 combined for three goals and two assists, all during Oneonta's opening run. Clark opened the scoring with a free-position goal after nearly 15 scoreless minutes.

Marissa Makar '15 picked up three ground balls to lead Oneonta and Nicole Boylan '15 caused four turnovers. Reichardt finished with 19 saves, turning aside 12 of Hamilton's first 13 shots.

Lauren Brady '14 and Casey File '17 paced Hamilton with three caused turnovers apiece and Brady recorded three ground balls. Alice Grant '14 and Emily Brodsky '14, who scored Hamilton's first goal, added three ground balls apiece. Rubin played the second half and stopped four shots to earn the win.

The win was Hamilton's 27th in 31 all-time meetings with the Red Dragons, who had won the last two games in the series.

Hamilton returns to NESCAC action on Saturday, March 29, at No. 16 Bates College at noon. The Bobcats will be the fourth nationally ranked conference opponent the Continentals have faced. Oneonta plays a SUNYAC game at Brockport on Saturday.