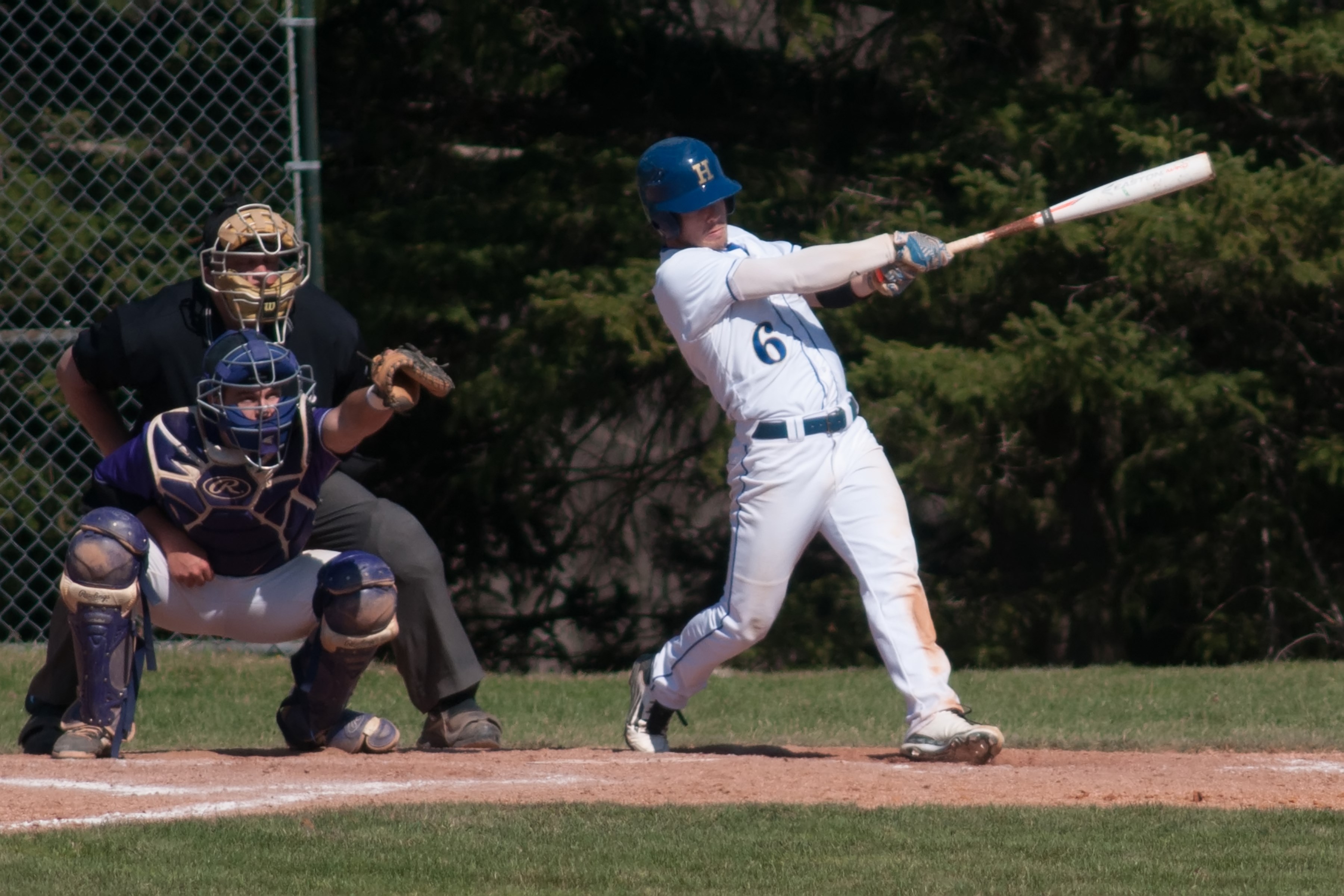 The Hamilton College baseball team wrapped up NESCAC West Division play on Saturday afternoon, dropping both ends of a doubleheader at nationally ranked No. 21 Wesleyan University.

Game one box score | Game two box score

The Cardinals (24-8, 12-0 NESCAC West) won the opener 1-0 and were 13-1 winners in the nightcap.

In game one, Hamilton (14-13, 4-8) put the tying run in scoring position in the seventh. Brian Ferrell '16 drew a pinch-hit walk with one out and moved to second on a sacrifice bunt before Gavin Pittore '16 picked up the final out to wrap up a two-hit shutout.

Pittore improved to 6-2 with the complete-game effort. He struck out eight and held the Continentals hitless over the final 5.2 innings. Pittore retired 13 in a row before Ferrell's walk.

Cole Dreyfuss '16 was the hard-luck loser, falling to 5-2 on the season despite allowing just six hits.

Wesleyan scored the game's only run with two outs in the second inning. Ben Hoynes '15 singled with one out and scored two batters later on a double by Nick Miceli '17.

The Cardinals pounded out 18 hits in the nightcap, including three home runs. Wesleyan scored eight runs over the second, third and fourth innings after Hamilton had taken a 1-0 first inning lead. The Cardinals put the game away with a five-run eighth.

Chris Collins '17 beat out a one-out infield single in the top of the first, stole second and scored on a base hit by Ryan Wolfsberg '17. The Cardinals avoided further damage by turning one of their four double plays to end the inning.

Sam Elias '15 remained unbeaten on the mound, holding Hamilton to six hits and a walk over eight innings. Elias (7-0) struck out five Continentals and faced just five batters over the minimum.

Cimino's two-run home run in the third put Wesleyan ahead to stay and Jordan Farber '16 led off the next inning with his first home run of the season. The Cardinals added three more runs in the inning on a Continental error, an RBI single by Ellis Schaefer '17 and a run-scoring double by Andrew Yin '15.

Hoynes and Eric Jones '16 singled in fifth-inning runs to put Wesleyan up 8-1, and Marco Baratta '16 capped the Cardinals' five-run eighth-inning outburst with a two-run home run.

Hamilton hosts SUNY Polytechnic in a 1 p.m. doubleheader on Sunday, May 3, at Royce Field. The Cardinals wrap up their regular season with a Sunday game at Trinity College.