No. 3 women's lacrosse leaves Liberty League a five-time winner
---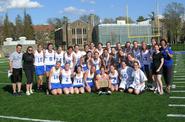 Libby Schultz '12, Rachel Friedman '13 and Katie D'Antonio '14 scored four goals each to lead nationally ranked No. 3 Hamilton College to a 17-8 win against Union College in the 2011 Liberty League women's lacrosse championship final at Hamilton's Steuben Field on May 7.

The top-seeded Continentals (17-1 overall) captured their fifth straight league championship title, and received the league's automatic bid to the NCAA Division III championship, which begins on Wednesday, May 11, with 15 first-round games. Hamilton went 49-1 against league opponents since the start of 2007. The Continentals -- winners of 15 straight -- join the New England Small College Athletic Conference for women's lacrosse in 2012.

No. 2 seed Union (10-8) was playing in its eighth straight championship final. The Dutchwomen won it all in 2005 and 2006, but lost to Hamilton each of the last five years. 2011 marked the sixth consecutive year these two programs played for the league championship.

Schultz added an assist, and was selected the most outstanding player of the championship. She posted three goals and one assist in a 10-7 semifinal win against Skidmore College on Friday.

Friedman tied the team record for goals in a season with 67. Sarah Gloo '01 finished with the same number in 2000. Friedman, D'Antonio, Sarah Bray '11 and Meg Pengue '12 joined Schultz on the all-tournament team. D'Antonio was credited with one assist to go with her four goals.

Anne Graveley '11 chipped in two goals and two assists for the Continentals. Bray had one goal and four assists, and leads the team with 38 helpers. Ashley Allen '12 and Mariah Monks '13 added one goal apiece. Friedman picked up five ground balls, Lauren Sokol '12 won three draw controls and Bray and Pengue finished with two caused turnovers apiece. Dewi Caswell '14 made six saves. Caswell is 6-0 in six starts with a 6.19 goals against average.

Kristin Joyce '11 paced the Union offense with four goals before she left the game with 18:02 left in the second half when she picked up her second yellow card of the afternoon. Melissa Hine '11 had one goal and two assists, and Kat Egizi '12 recorded one goal and one assist. Chelsea Charette '11 and Heather Fraser '13 scored one goal apiece, and Abby Stohler '11 had one assist.

Fraser led the Dutchwomen with three ground balls, Egizi won six draws and Hine caused two turnovers. Alexis Deeb '11 stopped four shots. Joyce, Hine and Egizi made the all-tournament team.

Hamilton scored the first two goals and never trailed. After Joyce's first goal made it 2-1, the Continentals rattled off three straight goals for a 5-1 lead with 16:35 left in the first half. Joyce scored twice and then Egizi's third of the year pulled Union within 5-4 with 4:51 remaining. Goals by Graveley and Friedman gave Hamilton a three-goal cushion before Joyce notched her team-best 61st of the year on a free-position shot with 53 seconds left.

Schultz put the Continentals back up by three at 8-5 on her first goal of the day with a free-position shot just five seconds before the break. Hamilton pushed its lead to six goals early in the second half as D'Antonio found the back of the net twice and Friedman added her fourth of the game. Fraser scored her 14th goal to make it 11-6 with 18:26 remaining.

The Continentals clinched the league championship with four straight goals for a commanding 15-6 advantage. Graveley started the run on her 25th goal with 16:29 left, and Monks ended it on her fifth goal with 8:28 remaining.

Hamilton held a 25-17 shot advantage, and a 15-14 edge in ground balls. The Dutchwomen won 15 draws to 12 for the Continentals. Hamilton was a perfect 15 of 15 on clear attempts, and committed just eight turnovers.

The Continentals also won the regular season finale between the two programs, 14-6, at Union on April 30. Hamilton has won the last five meetings, and leads the all-time series 28-13.