No. 3 women's lacrosse posts fifth straight victory
---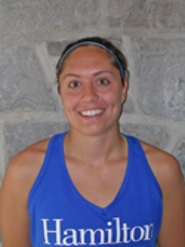 Anne Graveley '11 scored a game-high four goals, including the 100th of her college career, to lead nationally ranked No. 3 Hamilton College to a 17-4 win against Rensselaer in a Liberty League women's lacrosse game at Hamilton's Steuben Field on April 9.

Graveley is the 15th player in program history to reach 100 career goals. She achieved the milestone on the first goal of the afternoon with 27:27 left in the first half.

Rachel Friedman '13 chipped in three goals and three assists for the Continentals. Friedman leads the team with 33 goals and 40 points. Libby Schultz '12 scored three goals, and Katie D'Antonio '14 and Hannah Hoar '13 had two goals and one assist apiece. Martha Plack '14 added one goal and a season-high four assists, Sarah Bray '11 had one goal and one assist and Kate Otley '12 scored one goal. Bray leads the team with 21 assists.

Nicole Nietlisbach '13 made four saves and lowered her goals against average to 5.53. Bray and Friedman scooped up four ground balls apiece. Bray, Friedman, Graveley and Lauren Sokol '12 won three draw controls each as Hamilton finished with a 16-7 edge in that category. Meg Pengue '12 led the defense with three caused turnovers.

Alissa Peterson '13 paced Rensselaer with three goals and leads the team with 18. Shannon Maguire '13 scored her fifth goal, and Afton Marshall '11 and Whitney Kukol '11 were credited with one assist apiece. Allie Arnal '13 stopped 10 shots and played all 60 minutes. Peterson and Maguire had two ground balls apiece, and Kukol won two draws.

The Continentals (7-1 overall, 2-0 Liberty) scored the first nine goals and led 11-2 at the break. Seven different players scored in Hamilton's game-opening 9-0 run. After Graveley opened the scoring, Hoar made it 2-0 with 25:52 left. Friedman scored 20 seconds later, and Plack notched her seventh with 24:49 remaining.

Bray found the back of the net for the 17th time with 22:46 left, and D'Antonio made the score 6-0 just 48 seconds later. Friedman scored again with 21:15 remaining, and Schultz recorded her first of the afternoon 14 seconds later. D'Antonio ended the run with her ninth goal with 18:52 left.

Peterson finally put the Engineers on the scoreboard with 12:03 remaining in the half. It was the first goal allowed by the Continentals in more than 83 minutes. Hamilton shut out Vassar College 18-0 on Friday.

The Continentals enjoyed a 39-11 shot advantage and had just seven turnovers. Rensselaer committed 16 turnovers and was 8 of 14 on clear attempts.

The Engineers (5-4, 1-2) had not allowed more than 12 goals in a game this year before today. Hamilton has won five straight -- all by 10 or more goals -- and leads the all-time series, 21-2.

The Continentals travel to Ithaca College for a non-league game on Wednesday, April 13. Rensselaer goes to Vassar for a league game on Saturday, April 16.