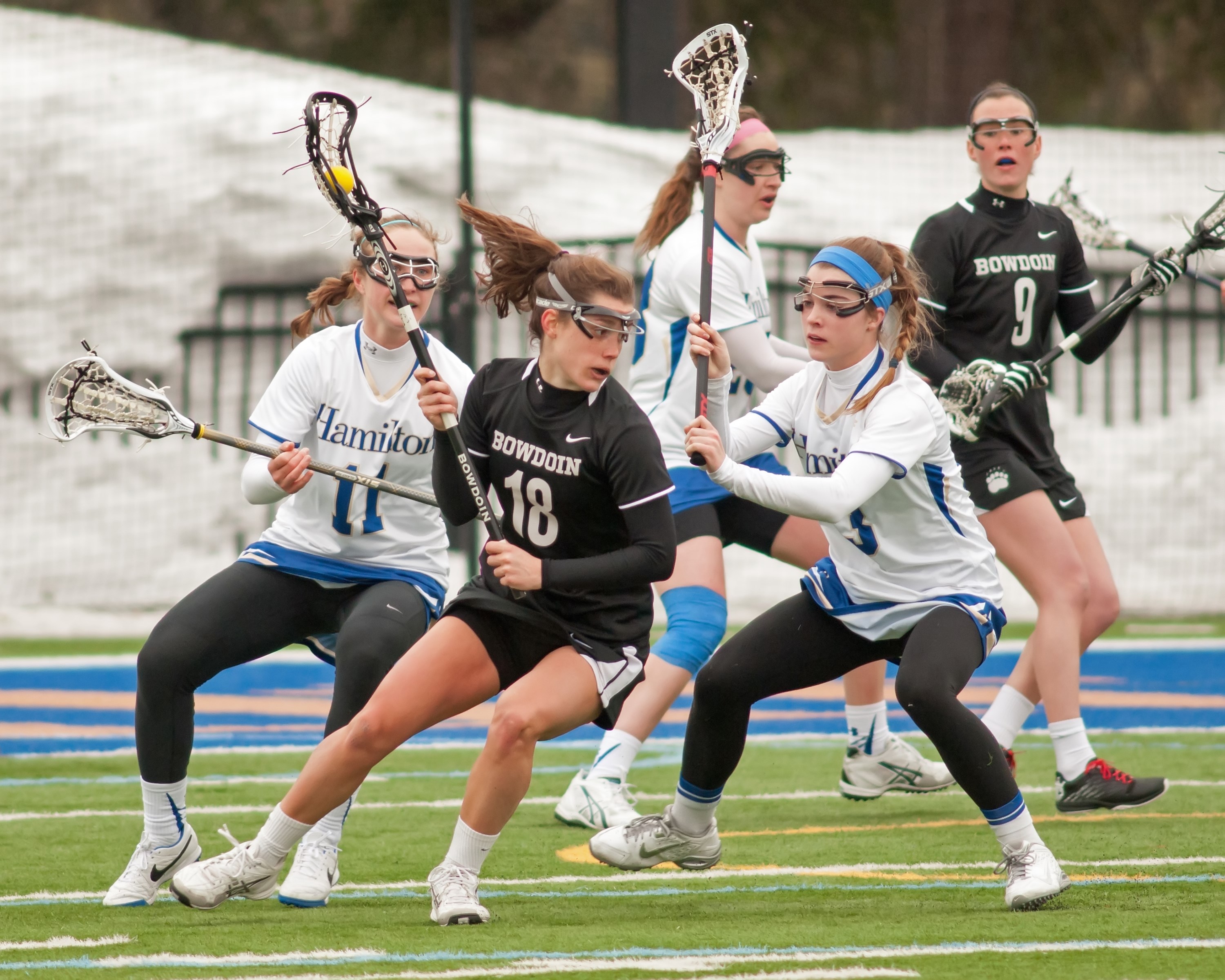 The Hamilton College women's lacrosse team won its fifth straight game on Saturday, smothering visiting Bates College 6-2 in a NESCAC game at Steuben Field. The Continentals, ranked seventh in the latest Top 20 coaches poll, allowed their fewest goals and fewest shots on goal in four seasons.

Box score

Hamilton (8-1, 4-1 NESCAC) limited the Bobcats to seven shots on goal and held them scoreless for the entire second half. The Continentals have held all nine of their opponents to single-digit goals this season. Hamilton entered the day ranked 23rd in Division III in scoring defense with 7.00 goals allowed per game.

The Continental defense was credited with caused turnovers on 14 of Bates' 26 giveaways (both were season-high totals). Hannah Rubin '17 stopped five shots in goal, including three on free-position opportunities.

Morgan Fletcher '17 led Hamilton's offense with two goals and an assist. She was one of five Continentals to force a pair of turnovers.

Fletcher netted the game's first goal after 11 scoreless minutes. Hannah Jeffery '16 had stopped Hamilton's first four shots en route to 12 total saves.

The team's leading scorer, Fletcher converted a free-position shot for her 17th goal of the season 7:24 later to put Hamilton up 3-1 and assisted on a goal by Taylor Ryan '17 with 20:27 left in the second half.

Hamilton was successful on three of four free-position opportunities, with Caroline McCarthy '16 and Ashleigh Stephan '15 making their attempts. On the season the Continentals are 23 of 48 on free-position shots.

The Bobcats (5-6, 1-5) pulled to within a goal twice in the opening half. Joanie Oates '17 scored her seventh goal of the season 1:31 after McCarthy put Hamilton up 2-0, with Moriah Greenstein '16 picking up her 19th assist on the play. Kaileigh Maguire '17 scored with 126 seconds left in the half but Hamilton blanked the Bobcats the rest of the way. Greenstein, the NESCAC's leading scorer with 42 points, was held to two shots.

Bates' best chance to tie the game came 5:51 into the second when Rubin was called for a foul but the Bobcats' free-position shot – on an empty net – went over the crossbar.

Ryan, McCarthy, Margaret Gabriel '16 and Hannah Haskell '15 also collected two caused turnovers for Hamilton, whose total of 14 was the program's highest single-game total since forcing 17 in a 16-6 win over No. 9 Middlebury College on April 5, 2011.

Gabriel, who scored the game's final goal, picked up a team-leading three ground balls. Jeffery led all players with four ground balls and Greenstein and Aly Dowey '15 had three apiece for the Bobcats.

Bates' two goals were the lowest total by a Hamilton opponent since the Continentals shut out Vassar College 18-0 on April 18, 2011, and marked the fewest Hamilton's ever given up to a NESCAC opponent.

The Continentals, who played their fourth game in eight days, have a week before their next contest: a nationally ranked NESCAC showdown against No. 2 Trinity College on Saturday, April 4, in Hartford, Conn. The Bobcats play a night game at No. 5 Bowdoin College on Wednesday.