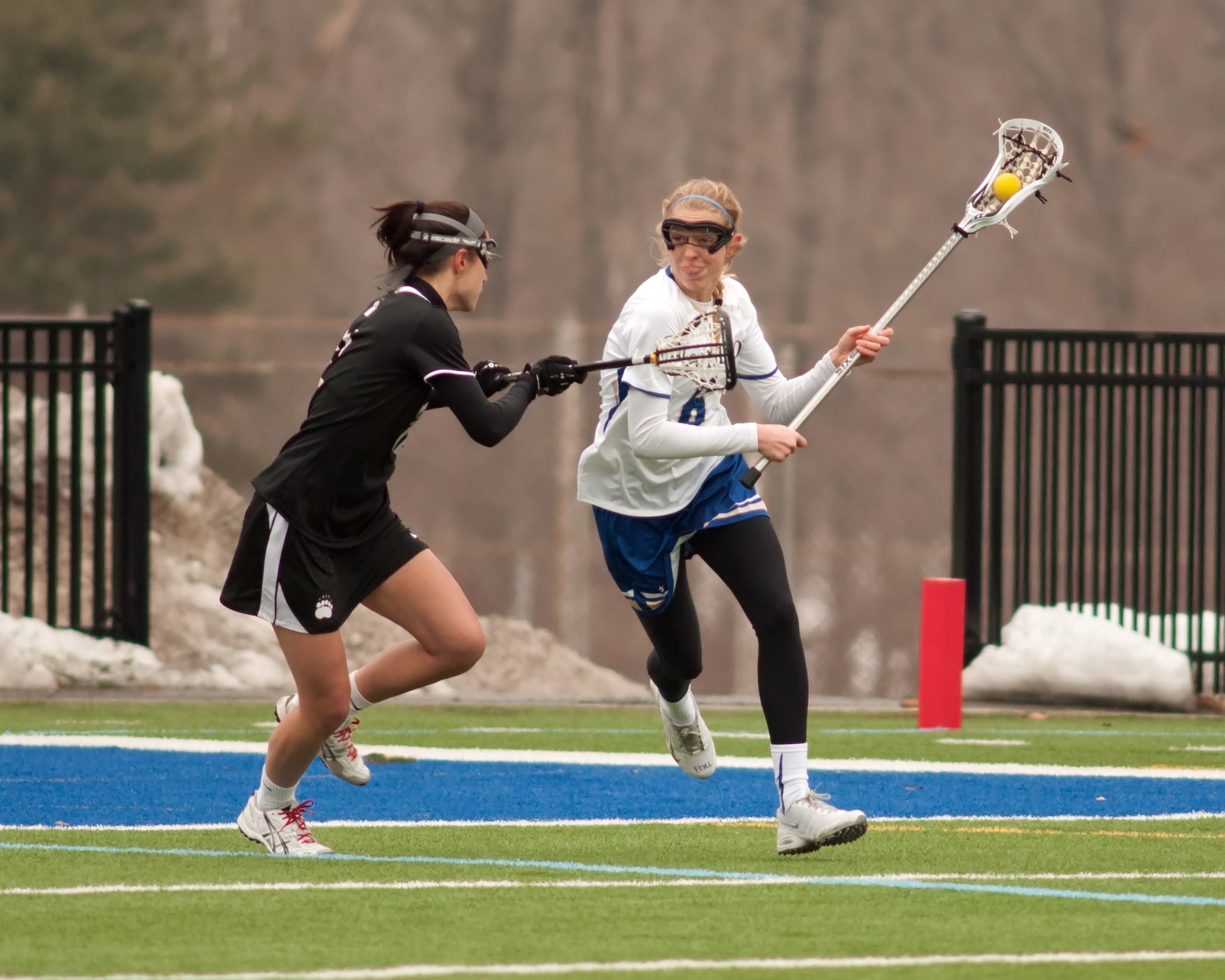 Middlebury College's Katie Ritter '15 scored four goals and added three assists, and the nationally ranked No. 2 Panthers posted a 12-10 NESCAC win against No. 7 Hamilton College at Hamilton's Steuben Field on Wednesday.

Box Score

Middlebury (11-1, 7-1 NESCAC) won its 11th straight game after a 12-11 loss to Tufts University in the season opener back on Feb. 28. The Panthers have also won four in a row in the series against the Continentals -- a series Middlebury now leads, 4-3.

Hamilton (10-3, 6-3) has a 4-3 record against ranked teams this year. The Continentals are alone in fourth place in the conference standings with one NESCAC game remaining. The top four teams at the end of the regular season host a NESCAC Championship quarterfinal on Saturday, April 25.

Laurel Pascal '16 chipped in four goals for the Panthers and leads the team with 33. Chrissy Ritter '16, Mary O'Connell '17, Alli Sciarretta '16 and Evie Keating '18 scored one goal each.

Middlebury's Madeleine Kinker '16, who leads the conference with a .544 save percentage, made 12 stops, including eight in the first half. Chrissy Ritter scooped up three ground balls and caused two turnovers, and Pascal won four draw controls.

Hannah Rubin '17 kept Hamilton in the game with a career-high 13 saves. Morgan Fletcher '17 picked up a career-best four ground balls and tied a career high with four draw controls. Hannah Haskell '15 tied a career best with three caused turnovers.

Fletcher scored two goals and added an assist. Caroline McCarthy '16 paced the Continentals with three goals and Ashleigh Stephan '15 tallied two. Taylor Ryan '17, Nora Klemmer '17 and Casey File '17 scored one goal each, and Darby Philbrick '18 was credited with her fifth assist.

The Panthers never trailed but the score was tied twice -- at 2-2 early in the first half and at 10-10 midway through the second. Middlebury went ahead for good with 10:35 left when Katie Ritter found an open Keating for Keating's first collegiate goal. Ritter leads the team with 22 helpers.

Pascal provided a two-goal cushion with 5:46 remaining when she scored after she created some space with a nice spin move inside the fan. After Pascal made it 12-10, Fletcher won the ensuing draw for Hamilton. She drove right down to in front of the goal and squeezed off a shot that was caught by Kinker.

The Panthers kept possession for the next four minutes until Fletcher picked off a pass with a little more than a minute to go. As she ran up the field, she was tripped and lost the ball to Middlebury's Megan Griffin '16, and the Panthers ran out the final 45 seconds.

Two goals by Pascal gave Middlebury a 2-0 lead just two minutes into the first half. Goals by McCarthy and Stephan drew the Continentals even with 22:10 left. The Panthers ran off the next four goals for a 6-2 lead with 17:05 remaining. Katie Ritter started the spurt with two goals and Chrissy Ritter and Sciarretta added their 12th and 22nd goals of the season, respectively.

Just when it seemed Middlebury was going to blow the game open, Hamilton cut its deficit in half on goals by Ryan and Fletcher just 12 seconds apart. Stephan's 17th goal this year was sandwiched between two more scores by Katie Ritter, and the Panthers took an 8-5 advantage into the break.

Both teams scored twice in the opening 3:43 of the second half, including Fletcher's team-leading 26th goal for the Continentals that made it 9-7 with 27:48 to go. Pascal restored Middlebury's three-goal lead on a feed from Ritter with 26:17 left.

Hamilton notched the next three goals as the Panthers went nearly 16 minutes without scoring. McCarthy recorded her 19th with 24:32 remaining, File scored with two players draped all over her on a free-position shot with 19:00 to go and Klemmer brought the Continentals even on her 12th goal with 16:32 left. It was the last goal of the day for Hamilton.

The Continentals travel to Connecticut College for one more NESCAC game on Saturday, April 18. Middlebury is at No. 1 Trinity College on Saturday with first place in the conference standings on the line.