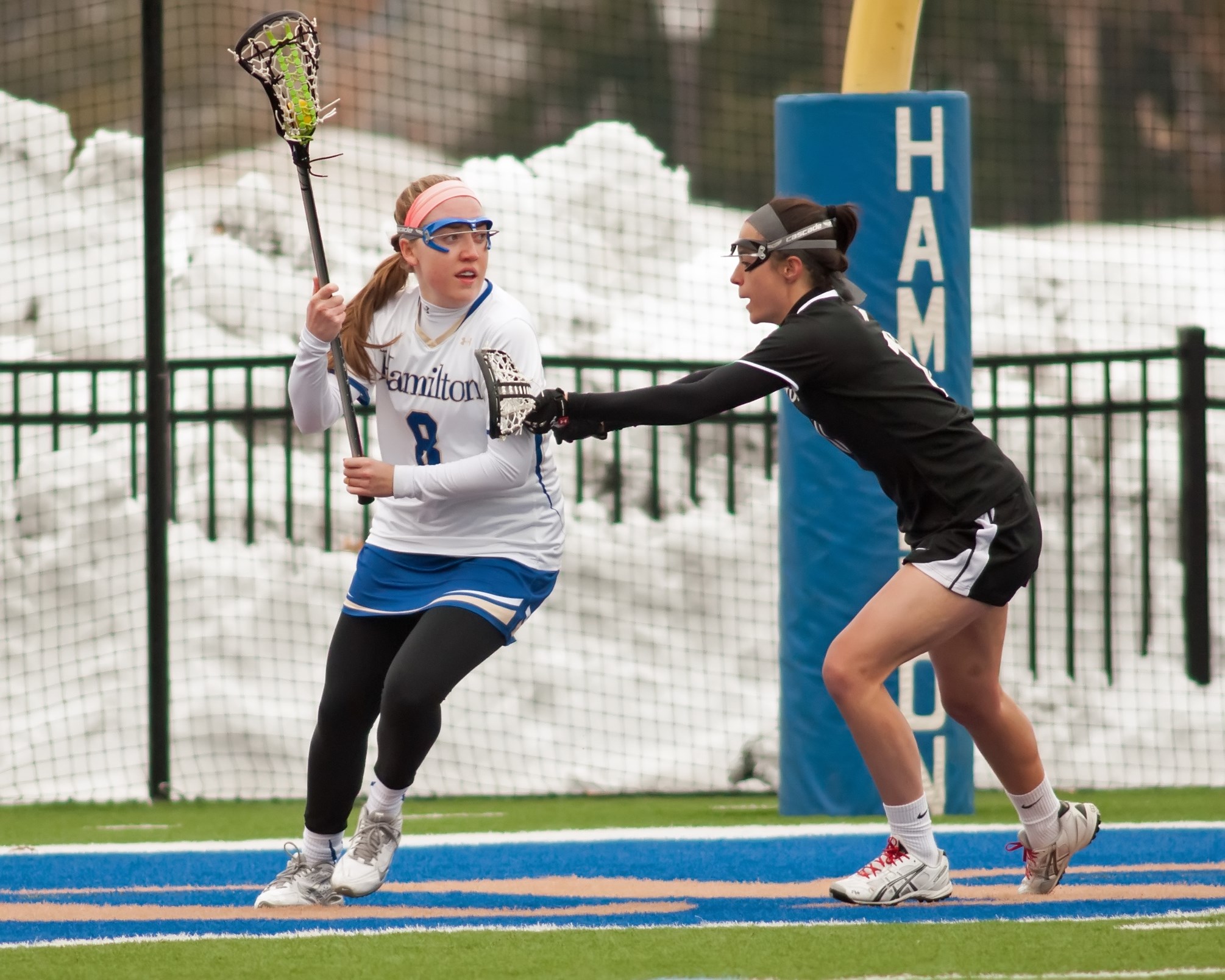 Tufts University's Caroline Ross '16 scored two goals and added an assist, and Hannah Wiltshire '18 made 10 saves as the Jumbos held on for a 7-6 win against the Hamilton College Continentals in a 2015 NESCAC Women's Lacrosse Championship quarterfinal at Hamilton's Steuben Field on Saturday afternoon.

Box Score

Tufts (11-5 overall) is the fifth seed for the championship and is ranked 12th in this week's Division III Top 20 coaches poll. The Jumbos will travel to Trinity College to take on the nationally ranked No. 1 Bantams in one semifinal on Saturday, May 2. Tufts' win today was just its third in 12 NESCAC championship appearances.

The Continentals (11-5) were seeded a program-best fourth for this event and ranked seventh in Division III. Hamilton will have to wait until May 3 to find out if it will receive a bid to the NCAA championship. The Continentals recorded quarterfinal wins in its previous two trips to the conference championship. Hamilton, which is ranked 27th in Division III in scoring defense at 7.73 goals allowed per game, edged the Jumbos 9-7 at home just two weeks ago.

Tufts' Ross is ranked second in the conference in goals and points per game. She has 51 goals and 64 points this year. Ross collected four draw controls as the Jumbos won all seven in the second half and finished with a 10-5 advantage in that category.

Brigid Bowser '16 scored two goals and Kali DiGate '15 chipped in one goal and one assist for Tufts. Annie Nero '15 and Calie Nowak '18 tallied one goal apiece. Laura Steinmetz '15 scooped up three ground balls and Emily Wright '15 contributed three draw controls and two caused turnovers.

Margaret Gabriel '16 paced the Continentals' offense with two goals. Gabriel also picked up four ground balls and caused two turnovers. Taylor Ryan '17, Ashleigh Stephan '15, Darby Philbrick '18 and Morgan Fletcher '17 notched one goal each. Fletcher leads the team with 27 goals.

Stephan led all players with five ground balls and Maddie Fitzpatrick '18 recorded three ground balls and two caused turnovers. Hannah Rubin '17 stopped six shots. Hamilton held a 22-14 advantage in ground balls and committed just 10 turnovers.

Nowak gave the Jumbos a 1-0 lead 2:16 into the first half on a free-position goal and Tufts never trailed. The Jumbos scored four times on seven free-position shots.

Gabriel tied the score 69 seconds later but Bowser countered with two straight goals for a 3-1 lead for Tufts. Her second goal came with 10:22 left in the first half and the Jumbos led the rest of the way.

Stephan scored her 21st goal on a free-position shot and pulled the Continentals within one with 6:18 remaining. Ross restored the two-goal lead on a free-position goal 53 seconds later, and Ryan cut Hamilton's deficit to 4-3 with her 14th goal on a free-position shot with 2:47 to go. Tufts took a 4-3 edge into the break.

Ross fed Nero for her fourth goal and a 5-3 lead 1:19 into the second half. Fletcher made it 5-4 with 24:56 left but Ross put the Jumbos back up by two on a free-position goal two minutes later.

Philbrick cut it to 6-5 on a free-position shot for her 12th goal with 19:06 remaining. The Continentals scored three times on 11 free-position shots. DiGate gave Tufts a two-goal cushion on yet another free-position goal with 15:39 to go. Gabriel closed out the scoring on her 17th goal with 10:37 left.

Shortly afterward, Gabriel picked up a yellow card and had to sit out for two minutes. Rubin made a nice save on a shot by Ross while Hamilton was down a player and the Continentals killed the rest of the penalty.

Right after the penalty expired, Hamilton thought it had tied the game as Stephan made a nice cut into the fan, received a pass in stride and fired a shot past Wiltshire with about eight minutes remaining. However, the officials had called a foul and blown the play dead just as Stephan was releasing the ball. Stephan's ensuing free-position shot was wide and the Continentals took just one more shot -- one by Gabriel that was stopped by Wiltshire with about three minutes to go.