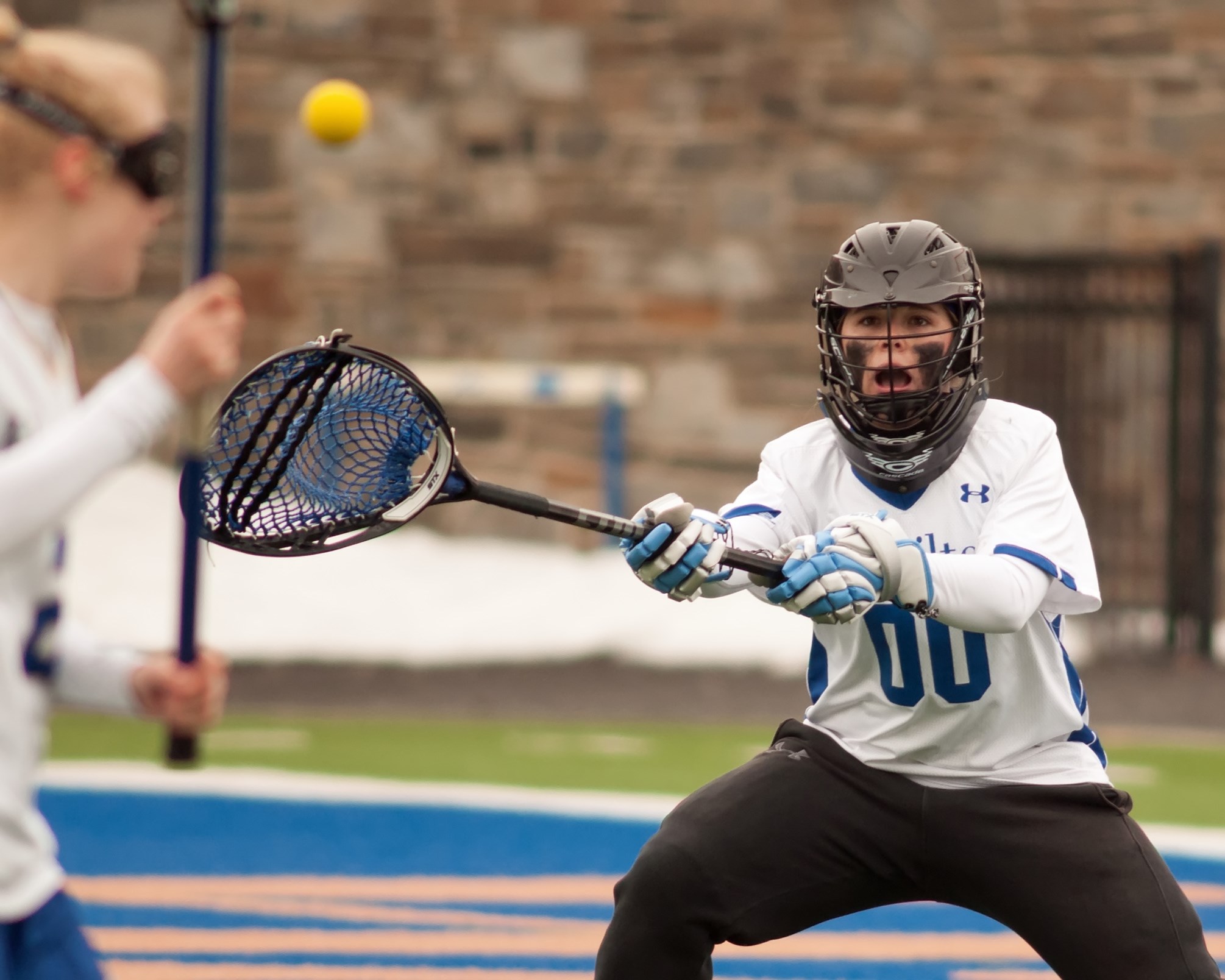 The Hamilton College women's lacrosse team rallied to beat host Williams College 10-9 on Wednesday in a match-up of nationally ranked NESCAC teams.

Box score

No. 9 Hamilton (9-2, 5-2 NESCAC) erased an 8-5 Williams lead with five straight goals in the last 13:15, then withstood a late push by the No. 16 Ephs to snap a three-game series losing streak. The hosts scored with 67 seconds left to cut Hamilton's lead to a goal and had a shot to tie the score but Hamilton's Hannah Rubin '17 made the last of her career-high 11 saves to seal the win.

After the Ephs (5-5, 2-5) used a 6-2 run to go up 8-5 with just under 14 minutes left before the Continentals started their comeback. Madison Beres '15 and Morgan Fletcher '17 converted free-position shots to pull Hamilton to within a goal before Ashleigh Stephan '15 and Darby Philbrick '18 scored 58 seconds apart to put Hamilton ahead to stay.

After Margaret Gabriel '16 netted her second goal of the game with 2:11 left to give the visitors a two-goal lead, the Ephs made it a one-goal game on a score by Natalie Gill '16. A turnover by the Continentals after the ensuing draw set up Williams' final possession but a shot by Hillary Cook '15, who had scored twice already, was saved by Rubin.

Fletcher scored a game-high three goals and added an assist for a career-best four points. Gabriel and Stephan contributed a pair of goals apiece.

Bridget Malicki '15 led Williams with three points, scoring two goals and assisting on another during the Ephs' 6-2 stretch. She assisted on a goal by Nancy Palmer '15 (her second) to cap the run.

Williams' Becca Bell '15 led all players with six ground balls and four caused turnovers. Gill controlled five draw controls and Palmer won four.

Stephan and Hannah Withiam '16 picked up four ground balls apiece for Hamilton and Caroline McCarthy '16 caused a career-best three turnovers.

The Continentals host No. 10 Tufts University on Saturday, April 11, at noon. The Ephs, who have lost three in a row, host Wesleyan University on Saturday.