Nobel Peace Prize Panel is April 24
---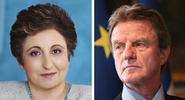 Two recipients of the Nobel Peace Prize will participate in a panel at Hamilton College as part of the Sacerdote Great Names Series on Wednesday, April 24, at 7:30 p.m., in the Margaret Bundy Scott Field House.

The event coincides with the 100th anniversary of Hamilton's own Nobel Peace Prize winner, 1864 graduate and Clinton native Elihu Root, who won the 1912 award.

The panel will include Iranian lawyer Shirin Ebadi, who won the Nobel Prize in 2003, and Bernard Kouchner, the co-founder and former president of Médecins Sans Frontières (Doctors Without Borders), who received the award in 1999. The moderator will be Edward "Ned" Walker '62, the Christian A. Johnson Distinguished Professor of Global Political Theory at Hamilton and former U.S. Ambassador to Israel, the Arab Republic of Egypt and the United Arab Emirates.

The Nobel laureates will each speak for 10 to 15 minutes about prospects for world peace and then respond to questions. The lecture and panel are free and open to the public.

The panel will bring to seven the number of former Nobel Peace Prize winners who have spoken at Hamilton as part of the Sacerdote Series, which hosted its first speaker, General Colin Powell, in 1996. April's event marks the first time the Sacerdote Series has hosted a panel, although political strategists James Carville and Mary Matalin appeared together in 1996. Previous events have included presentations by Elie Wiesel, Margaret Thatcher, Desmond Tutu, Jimmy Carter, Bill Cosby, Bill Clinton, Jon Stewart and Condoleezza Rice.