UN Climate Change Committee Glaciologist Richard Alley to Lecture
---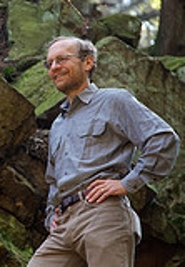 Glaciologist Richard Alley, a member of the UN climate change committee that was awarded the 2007 Nobel Peace Prize, will present a lecture, "Ice Sheets and Sea Level Rise," on Thursday, Oct. 20, at 7 p.m., in the Kennedy Auditorium, Taylor Science Center. The lecture is free and open to the public.
The Evan Pugh Professor of Geosciences at Penn State University, Alley is a member of the National Academy of Sciences. He was recently named a 2011 recipient of a $100,000 Heinz Award for being a leader in climate and polar ice studies. The Heinz Awards, now in their 17th year, honor visionaries who have made extraordinary contributions to the environment, a life-long area of commitment for the late U.S. Senator John Heinz.
Alley is the host of the PBS program on climate change, "Earth: The Operators' Manual," and is the author of a book by the same title. The book asserts that humans are causing global warming and offers a path to the future. Publishers Weekly commented, "This optimistic book ought to convince even the most obstinate climate-change denier."
Alley also wrote The Two-Mile Time Machine: Ice Cores, Abrupt Climate Change and Our Future, which won the 2001 Phi Beta Kappa Book Award in Science and was one of Choices Outstanding Academic Titles for 2001. He is a member of the IPCC, a Fellow of the American Geophysical Union and has testified before Congress on climate change issues.
The lecture is sponsored by the Hamilton's Geoscience Department and Environmental Studies program.