Norwegian Nobel Institute Research Director to Lecture
---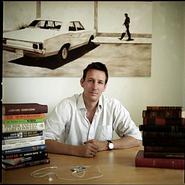 Asle Toje, the research director for the Norwegian Nobel Institute, will present a lecture titled "The Nobel Peace Prize and the EU," on Thursday, March 7, at 7:30 p.m., in the Bradford Auditorium, KJ. His lecture is sponsored by the Hamilton Government department and is free and open to the public.
Toje is also a foreign policy analyst and adviser to government agencies and non-government organizations. He frequently contributes op-ed pieceson contemporary foreign and security policy to the media.
Toje earned his Ph.D. in international relations from Cambridge University in 2007, where his thesis was titled "American Influence on EU Security Policies, 1998-2004." He then spent one year as a Fulbright Fellow at Columbia University's School of International and Public Affairs. This program, designed to allow young scholars to work on policy-related questions in security policies, led him to Cold War history, and in particular the history of the transatlantic alliance.
This subject carries particular poignancy for Toje because he is from Norway, a state that experienced the Cold War from a front-line position. During his time at Columbia, Toje developed an interest in international relations theory, in particular realism and internationalism.