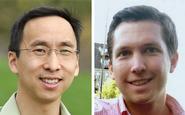 NPR's science correspondent Shankar Vedantam featured a study on character versus performance and compensation in the National Football League (NFL) that began as Kendall Weir's senior thesis by under the direction of Professor of Economics Stephen Wu. The Dec. 18 broadcast on NPR's Morning Edition highlighted the results of Weir '12 and Wu's paper titled "Criminal Records and the Labor Market for Professional Athletes" published in The Journal of Sports Economics.
The professor/student team examined the playing records for the 2011-12 season of 1,200 players who were drafted by the National Football League between 2005 and 2009. They compared these records with the players' "character issues."
Their study found that all players with demonstrated character concerns are picked significantly later in the draft than otherwise similar players with no history of suspensions or run-ins with the law. The researchers discovered, however, that players who had been arrested but not charged were downgraded in the draft by about 15 spots (nearly half a round), but ended up outperforming their counterparts with no arrest records who were drafted higher. They started an average of two more games than similar arrest-free players. Players arrested and charged with a crime were also downgraded 15 spots. Their performance records were not as robust as those not charged. They started only the same number of games as similar players with clean records.
The nature of the character issue seemed to matter. Players that had trouble with other coaches and/or players were downgraded by about 25 spots. Teams were correct in this downgrade in that these players performed significantly below similar players who did not have documented behavior issues.
In explaining how he chose to focus on compensation versus character in the NFL for his thesis, Weir replied, "I wanted to combine economics with my favorite thing in the world, sports. I thought a lot about what Billy Beane [Moneyball mastermind] has done: his inclusion of economics in managing the Oakland A's, from an operations standpoint, has changed sports forever. Baseball was first, and other sports aren't far behind in leveraging the big data that is accessible today. I tried taking an angle in the NFL that no one had approached before by including criminal records and character issues, and I think we really found something.
"The results weren't overly surprising to me ... NFL general managers, however, seem to be slower to leverage sports statistics when evaluating college athletes (when asked, one GM dismissed the stats and said he sticks to his gut), which is why I think the study attracts interest every year around NFL draft time."
This research has been featured by several other major media outlets, originally by the Associated Press and by NPR's Only a Game and later by The New York Times, the Atlanta Journal-Constitution, the Chicago Sun-Times and NJ.com.
Shankar Vedantam is a science correspondent for NPR. The focus of his reporting is on human behavior and the social sciences, and how research in those fields can get listeners to think about the news in unusual and interesting ways.