NYC Students Host Kathryn Parker Almanas
---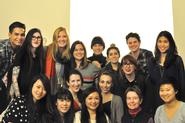 Students in Hamilton's Program in New York City shared dinner and conversation with photographer Kathryn Parker Almanas. Almanas spoke with the students about her life as an artist.
Almanas taught photography at Hamilton from 2008-10 and has a long history of family connections to the college. Not only did her father Robert Almanas graduate from Hamilton in 1975, but her maternal grandfather was Dwight Newton Lindley '42, a Hamilton English Literature professor from 1952 - 1986. Lindley and his wife Janie are buried in the campus cemetery.
Almanas' middle name was given to her in honor of painter and former Hamilton art professor Paul Parker.