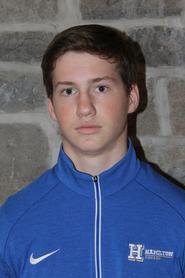 Hamilton College's Colin O'Dowd '19 (Chester, N.J./Delbarton School) was selected the NESCAC Men's Squash Player of the Week on Jan. 18.

O'Dowd won three out of four matches at the second position on Friday at Amherst College and on Saturday at Mount Holyoke College. Teammate Sam Matlick '17 was named NESCAC player of the week on Dec. 7.

O'Dowd started the weekend with a three-game win against a Haverford College opponent as the Continentals defeated Haverford, 8-1. He allowed just 13 points in another three-game victory against Amherst's Cameron Bahadori on his home court.

On Saturday, O'Dowd lost the first game against his Colby College opponent, but rebounded to win the next three in convincing fashion (11-5, 11-3, 11-5). His lone loss all weekend was in four games in a match against the University of Western Ontario early Saturday evening. The setback ended his win streak at seven matches as his record moved to 7-3.

Hamilton travels to Wesleyan University for matches against Bowdoin College and Wesleyan on Saturday, Jan. 23.