Oerlemans, Casey, Favored to Win Take 8th HamTrek
---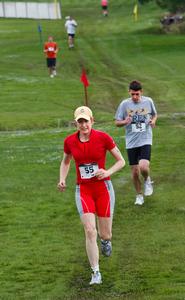 Professor of English Onno Oerlemans was the top individual finisher, Visiting Assistant Professor of Communication Cheryl Casey was the top female individual, and team "Favored to Win" (employees David Swartz and Claudette Ferrone '88 and Jelena Lacelle), won the relay in the eighth annual HamTrek Triathlon on May 6.
Oerlemans finished with a time of 58:34, Casey had a time of 1:11:26 and Favored to Win finished in 1:05:32.
Fifty individuals and 19 teams competed in the event that took place after the Class & Charter Day Awards ceremony. Participants swam 21 lengths in the pool, biked nine miles and ran 5 kilometers.