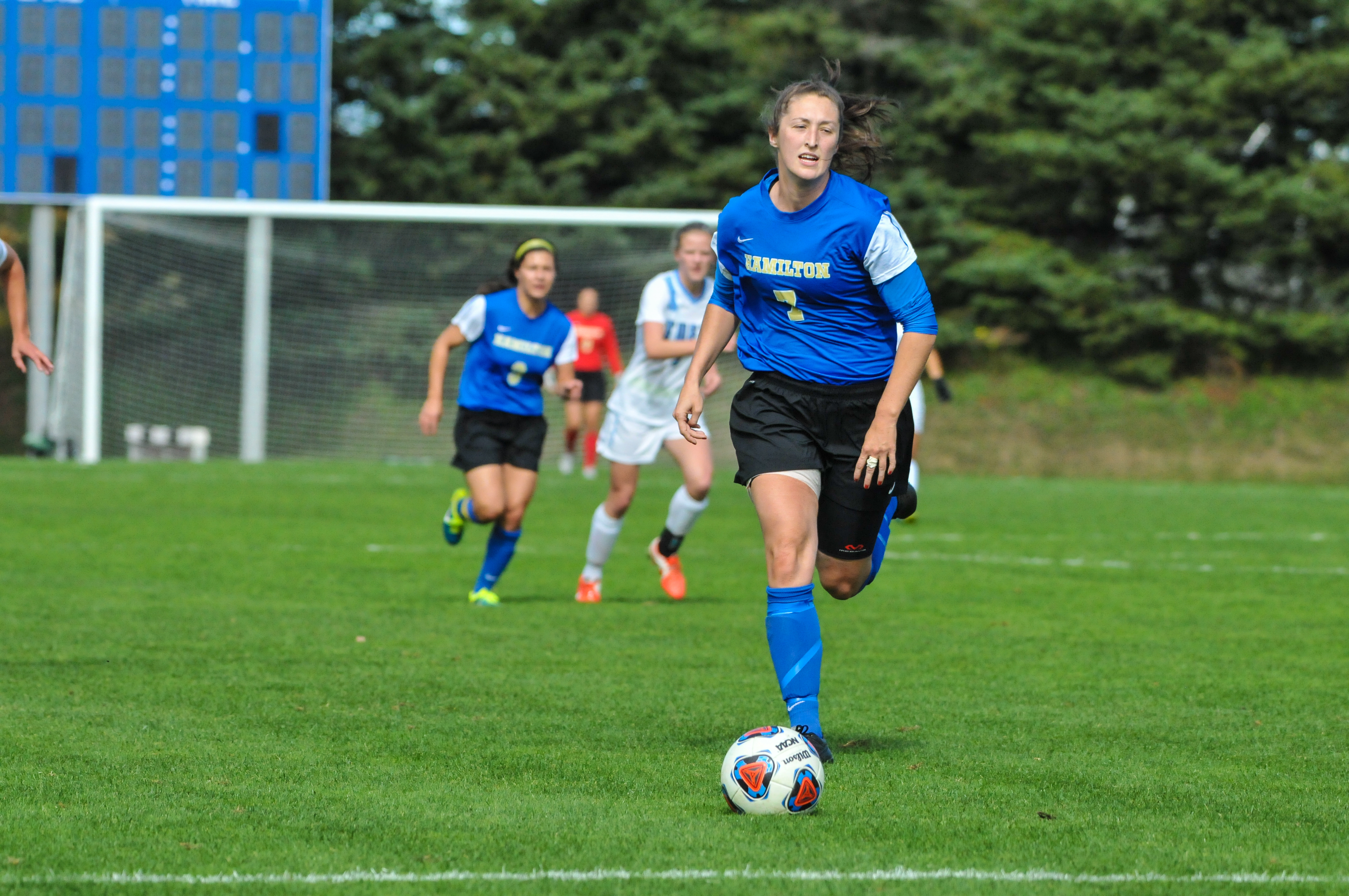 The Hamilton College women's soccer team extended its unbeaten streak to six games with a 9-0 non-league win over SUNY Polytechnic on Sunday afternoon at Love Field. The Continentals evened their record at 4-4-3 and recorded their highest single-game scoring total since a school-record 10 goals in a 2006 win over the Wildcats.

Box score

Katie Kreider '18 led Hamilton with career-best totals of two goals and two assists. Her six points and two assists were both one short of the program's single-game records. Ali Clarke '17 added a career-high five points, assisting on Kreider's first goal and scoring two of Hamilton's three second-half goals.

Amanda Becker '18 and Becca Rees '16 both finished with a goal and an assist; Becker's three points were a personal-best total.

Morgan Fletcher '17 scored her first goal of the fall to put the Continentals up 3-0 midway through the first and Katie Tenefrancia '19 opened the second-half scoring with her second goal of the season.

Megan Root '19 recorded her first collegiate point, assisting on a goal by Darby Philbrick '18 late in the opening period. Allie Penta '16 assisted on Becker's goal for her first point of 2015.

Rachel Cooley '18 and Emily Dumont '18 split time in goal as the Continentals recorded their fourth shutout in five games. They've yielded just one goal in the last 497:17.

Hamilton's six straight games without a loss (4-0-2) marks the program's longest streak since the 2010 team recorded a 4-0-2 stretch en route to the NCAA playoffs.

Angela Barrett made nine saves for the Wildcats (6-4-2 overall).

The Continentals have won all six meetings with the Wildcats, outscoring them 48-1.

Hamilton returns to NESCAC action Saturday with a 2 p.m. game at Bowdoin.