Olsson '14 Applies New Physics Techniques to Gene Research
---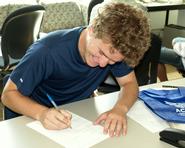 Spencer Olsson '14 is a math concentrator with minors in physics and sociology. He works on his summer research in the cosmology lab, a room filled with humming high-end computers and windows covered like giant whiteboards in complex mathematical and physics equations.
But unlike those researching alongside him, Olsson is not studying supernova or meteors. Instead, he spends his time examining 28,000 rows of data on two fish parasites, a field of study normally researched by Hamilton's biology department. Olsson is here because he's applying a new physics research technique to the field of biology.
The method being employed by Olsson to examine these parasites was pioneered by the two professors overseeing his research, Assistant Professor of Physics Natalia Connolly and her husband, University of Pennsylvania Postdoctoral Researcher Brian Connolly. The Connollys' method was originally intended to analyze galaxies, but if Olsson's research turns out to be a success, this method can also be applied to gene research and, more specifically, to human genome and pathogen research.
The human genome project which took place over the last two decades has seen vast improvement in gene sequencing techniques to the point where there is now very little room for improvement. Olsson says that, as a result, "we now have reams and reams of data for vast numbers of different organisms, but no idea, necessarily, about what to do with that data." This is where Olsson's research comes in. He will use the Connollys' statistical techniques for physics research to allow researchers to pinpoint the most important portions of vast quantities of genome data.
Olsson's method involves mapping the levels of expression of 28,000 genes from the two parasites. He is working to identify where the levels of expression peak across the 28,000 genes in order to identify trends. These measurements of gene peak-expression sameness will help to identify the most important genes in the sequence. Olsson's research involves the use of a variety of statistical and programming techniques with which he is highly familiar, but Olsson's research also required him to learn an entirely new programming language on the job. The work is sometimes tedious, and one single typo in hundreds of lines of code can result in the programs' failure to run. Still, Olsson remarked that "when the program does compile correctly it's very exciting – small fixes can lead to great leaps forward."
This research has enormous potential for gene research, particularly in the field of pathogen research. If this new method is successful, it will allow researches to quickly identify the most important aspects of a newly discovered pathogen genome and quickly develop a countermeasure, potentially warding off pandemics that would have previously caught scientists off guard. Olsson is excited to be working with Professor Connolly on this statistical analysis, both because of its enormous potential scientific impact and because he has the opportunity to break ground in a completely new field of research.
In addition to managing his major and dual minors, Olsson is the captain of the ultimate Frisbee team, a member of the sailing team, a summer sailing coach and a trombonist in the brass ensemble. He will also begin as a rookie EMT this fall with HCEMS.
Spencer Olsson is a graduate of Bayport Blue-Point High School (N.Y.)