Olympic medalist visits Hamilton swim camp
---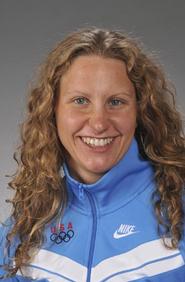 Olympic swimmer Margaret Hoelzer visited the 2012 Hamilton College Competitive Swim Camp and was featured on Utica's NBC-TV affiliate WKTV during their London Olympics coverage in early August.

Hoelzer was the featured guest instructor at the annual swim camp on July 11 and July 18. Click here to see WKTV Sports Director Jason Powles' interviews with Hoelzer and two campers.

Hoelzer competed for the U.S. at the 2004 Summer Olympics in Athens and again in 2008 in Beijing. She captured a silver medal in the 200-meter backstroke, a bronze medal in the 100 back and another silver as part of the 400 medley relay -- all in 2008. Hoelzer is a former world record-holder in the 200 back.