Olympic Silver Medalist Kristy Kowal Visits Hamilton Swim Camp
---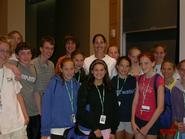 The Hamilton College Competitive Swim Camp welcomed Olympic silver medalist Kristy Kowal as their guest clinician on July 12. Kowal was with the camp for one day; she gave a lecture in the morning, coached the campers in two swimming sessions, and joined them for an afternoon cook-out.
Her energetic morning lecture took the form of a narrative of her swimming career, which she started at age five. Kowal spoke for an hour to a group of rapt campers, describing how she watched the Olympics at the age of eight and tehn announcing that she was going to do that too. "I loved it...swimming was so much fun for me," she says of her early years.
With a six-inch growth spurt the summer after her eighth grade, Kowal, adamant that "I was not a very good swimmer [when I was younger]," suddenly found she could be good. "I realized that the harder I worked, the faster I'd go."
After 11th grade, 17-year-old Kowal qualified for Senior Nationals in California and, swimming with the faces she'd seen on TV, took second place and qualified for the U.S. Swim team. Her audience chuckled enviously at the back-woods girl who needed two hours to be convinced to go to the Pan Pacific Championships in Atlanta with the U.S. team. Kowal's sight of the Olympic pool at Atlanta fueled her determination to be at the Olympics. "I was like, I'm coming back here…I want to go to the Olympics!"
Unfortunately for Kowal, she placed third at the Olympic trials. She was an alternate, by .17 of a second. In 1998, she attended the World Championships in Australia, where she took first place in 100-meter breast stroke, as well as second in the 200-meter. She explained, grinning, that she had really wanted to win a medal to get the Australian leather outback hat that came with the medals. But even with the hat, "the best thing ever was hearing the National Anthem played."
Two UCAA championships later, Kowal returned to another Olympic trial. Again, she got third in the 100-meter breast-stroke but this time by .01 of a second. The trials for the 200-meter, however, were more successful and Kowal qualified for the team, as well as breaking the American Record. "Everyone was really excited for me," she recalled. At the 2000 Olympics in Sydney, Australia Kowal lost the gold medal to Hungarian Agnes Kovacs, but did win the silver (as well as breaking her own record for 200-meter breast-stroke). "And that," she says, "made all of it – those two third-places at the trials – worthwhile."
She swam for another 4 years, traveling and competing with the team. In her final World Championships, Kowal was voted captain by her teammates. She graduated from the University of Georgia in 2000 with a degree in elementary education and now teaches third-graders in Pennsylvania.
In her swimming career, Kristy Kowal has won eight NCAA individuals titles, was a member of UGA's first two NCAA team championships (in 1999 and 2000), and was named the 2000 NCAA Woman of the Year. She holds one world record and eight American records. Her story has all the elements of an athletic success drama: a little girl in the country, who isn't really better than anybody else, works hard, faces set-backs, and ends up winning the highest honors in her sport. Kowal tells it with energy and humor. The Hamilton swim campers, though, were also interested in other things. They wanted to hear Kowal's favorite color, food and music; how she trained and what events she swam when she was 13.
In a campus-wide e-mail, Coach T.J. Davis described Kowal as "one of America's all-time student-athletes," but his introduction, which called her "an outstanding role-model" was closer to the truth. Personable and energetic, Kowal knows how to speak to children; how to hold their attention and make them laugh. he is a walking inspiration both by what she has done and how she shares it

-- by Lisbeth Redfield