Peter Maher '13 Publishes Op-ed in Asheville, N.C., Newspaper
---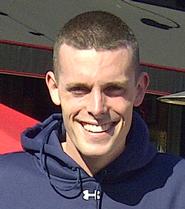 An op-ed written by Peter Maher '13 was published on Jan. 22 by The Tribune Papers of Asheville, N.C. The piece, titled "The Lone Wolf: Why singular terrorists pose the greatest threat," was written as an assignment in a fall semester Government class, Global Challenges, taught by Ambassador Edward "Ned" Walker Jr. '62. Maher then submitted it to the paper for consideration.

Maher wrote "Since September 11th, much of the public focus has been on organized terrorist organizations and their threats, focusing on sole individuals only after a foiled attack is made public. This poorly misaligned focus places the United States and its citizens in grave danger.

"When individuals work alone, the opportunity for infiltration and investigation is significantly reduced. Individuals who are unaccompanied in their radical efforts have only their own actions and communications to monitor. If provided the correct materials and financial support, these individuals have the ability to execute a plot on American (or foreign) soil with a limited threat of interference."
Maher, who resides in Asheville, is identified as a Hamilton student by the newspaper.

The Tribune covers most of western North Carolina, with an immediate area population of approximately 300,000 people.