Opportunity Program Students Arrive on the Hill
---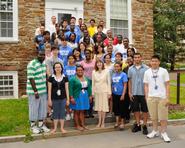 On Monday June 28 the air was filled with excitement, nervousness and the smell of delicious Mexican food down the Hill. Dean of Students Nancy Thompson welcomed the students of this year's Opportunity Programs to her house for a festive meet and greet as part of the program's summer session.

The Opportunity Programs are comprised of the Arthur O. Eve Higher Education Opportunity Program (HEOP) and Hamilton College Scholars. HEOP was established in 1969 by the state of New York to give socioeconomically and academically disadvantaged students from New York State an opportunity to reach their potential at colleges and universities. The Hamilton College Scholar program runs simultaneously to and with the same mission as HEOP, providing the same opportunity but extends to students from outside of New York State and those above HEOP income guidelines. Students who come to Hamilton through Opportunity Programs are some of the brightest and most talented students in their high school classes yet can be overlooked by the standard college admissions process. This year the Hamilton community welcomes a particularly large group of 42 students to the Hill.

Opportunity Program students participate in a five-week summer session at Hamilton. The five-week period facilitates the orientation experience by introducing students to the Hamilton faculty and giving them insight into the academic expectations of the college. During the summer session, students are kept very busy by participating in nine classes as well as weekend events. Students take a comprehensive course load, taught by Hamilton faculty, that includes the humanities, sciences and oral communication. In addition, students participate in a day of local community service.

Director of Opportunity Programs Phyllis A.H. Breland '80 is a Hamilton HEOP graduate herself. She has been affiliated with the program since her graduation and has been the director for the past 10 years, overseeing its growth and development. Breland maintains that the program has adapted to reflect current trends in education and professional fields. It introduces students to many Hamilton disciplines, playing an important role in exposing students to potential fields of interest that they can pursue during their time at Hamilton.

Breland says the curriculum remains responsive to Hamilton's academic environment and the program is held in high regard by the faculty and administration. Students come to Hamilton in the fall with an expectation to be leaders and with a foundation for success. The increasing number of Opportunity Program students who receive awards and recognition for their contributions to the Hamilton community offer evidence that the students meet and exceed these expectations. Breland feels that the success of HEOP and Young Scholars students helps to break down stereotypes historically associated with the program. Opportunity Program students bring undeniable talent and ambition to Hamilton. Breland describes this year's Hamilton students as bringing ability, passion and promise to the Hill.