Paikert '13 Uses Creative Writing as Therapy in Emerson Project
---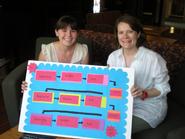 Anna Paikert '13 first conceived of the idea to use creative writing as a therapy to help developmentally disabled children while studying childhood developmental disabilities in Copenhagen at the Danish Institute for Study Abroad. Her involvement in a long-term project involving the study of creative writing and its use in educating special needs children led to her Emerson Foundation Summer Research Project. Paikert's study involves a collaboration with the Tradewinds Center of Upstate Cerebral Palsy to design and carry out a creative writing classroom therapy program for children with developmental disabilities. Paikert is being advised by Associate Professor of English Tina Hall.

While creative writing therapy for developmentally disabled children is not unheard of, Paikert says that many instructors shy away from the method because children with developmental disorders can often have difficulty writing. Her goal, however, is not to teach the children grammar and composition structure, which may be beyond their abilities, but rather, to teach the children the basic elements of storytelling and to help them to think creatively. According to Paikert, the therapeutic value of creative writing lies in the expressive power of words and the inherent structure that storytelling provides for the expression of feelings.
Paikert is working closely with Letty Umidi, the curriculum specialist at the Tradewinds Center, to both design and execute her project. Paikert visits nine classrooms each week at the Tradewinds Center's facilities in Rome and Utica where she works with children of all ages and levels of autism. Her lessons include interactively reading stories with the children by discussing feelings, emotions and plot elements as the story progresses, teaching the foundations of storytelling and completing writing exercises. Her program will also allow children to work toward creating a final story by the end of the summer to be made up of short segments they complete on a weekly basis.
Because students in her class are at different reading, writing and learning levels, Paikert has to take care to see that each student's needs are met. She says that some students are capable of writing stories on their own, while others need her help understanding the concept of setting and characters. Some students are not yet at a learning level where they can write, so she helps them to translate their thoughts and ideas into a story. She has taken an open-minded approach to the project, encouraging students to use traditional storytelling, poetry and graphic narratives.
Paikert is pleased that her project allowed her to both gain valuable career- related experience and to give back to the community by helping children. While Paikert has had a longtime career interest in educating children with special needs, her Emerson project has shown her how possible it is to bring her love of creative writing into the field of special needs teaching. Most of all, she feels a great sense of satisfaction knowing that her work this summer has helped to "unlock the innate creativity that lies within each child and help those with developmental disorders, in particular, to realize their great potential."
Anna Paikert is a graduate of Columbia Senior High School (N.J.)