Pair of men's golfers are NESCAC all-conference
---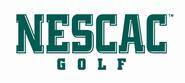 Hamilton College men's golfers Greg Scott '14 (New Haven, Vt./Mt. Abraham Union HS) and Carter White '14 (Thornton, N.H./University of Santa Clara) have earned spots on the 2011 NESCAC All-Conference Team.

All-Conference Team

The all-conference team is based on the players' performance at the NESCAC Championship Qualifier, which was held at Lyman Orchards Golf Club in Middlefield, Conn., on Oct. 1 and 2. The first team is the top seven finishers and ties, and the second team includes the next seven finishers and ties. Sixteen golfers were honored.

Scott -- an All-American last year as a freshman -- made the all-conference second team in 2010. This year, he tied for fourth place out of 50 golfers with a 36-hole score of 146. He fired a 3-under-par 69 on Sunday after he recorded a 77 the first day. His Sunday round tied for the best 18-hole score of the tournament.

White tied for 14th at 150 after he posted rounds of 73 and 77. His 73 on Saturday led the Continentals. Hamilton placed fourth as a team and qualified for the 2012 NESCAC Golf Championship, which will be hosted by Williams College and played in late April.