Parking, Shuttle Information for Condoleezza Rice Lecture
---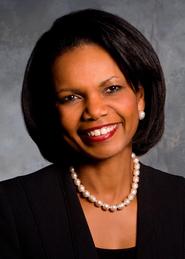 Condoleezza Rice, secretary of state under former president George W. Bush, is the next guest in the Sacerdote Great Names series at Hamilton College. She will give a lecture on Monday, Nov. 1, at 7:30 p.m., in the Margaret Bundy Scott Field House.
No tickets are necessary and the general public will be admitted on a first-come, first-served basis. Doors for the general public will open at 6:45 p.m.; Hamilton students, faculty and staff receive priority seating at the lecture. Approximately 1000 seats will be available for the public. If capacity is reached, overflow seating will be available in the Science Center Kennedy Auditorium (SCCT G027).
Free parking and shuttles will be available in the Village of Clinton and the Clinton Elementary School, Middle School and Elm Street parking lots, as well as the Clinton Arena and Resurrection Church, both on Kirkland Avenue. (Signs will be posted in the available parking lots). Shuttles to the lecture from these parking areas will begin at 5:30 p.m. and will run after the lecture until all guests have been returned to their vehicles. Parking on campus will be very limited.
Those guests needing reserved handicapped seating and parking are asked to call 859-4529.
No backpacks or large purses will be allowed into the field house for this event, and no video or audio recording or photography will be permitted.
Rice will be the 17th guest in Hamilton's Sacerdote Great Names Series. For updated information on the lecture call the Hamilton College Information Line (315) 859-INFO (4636).