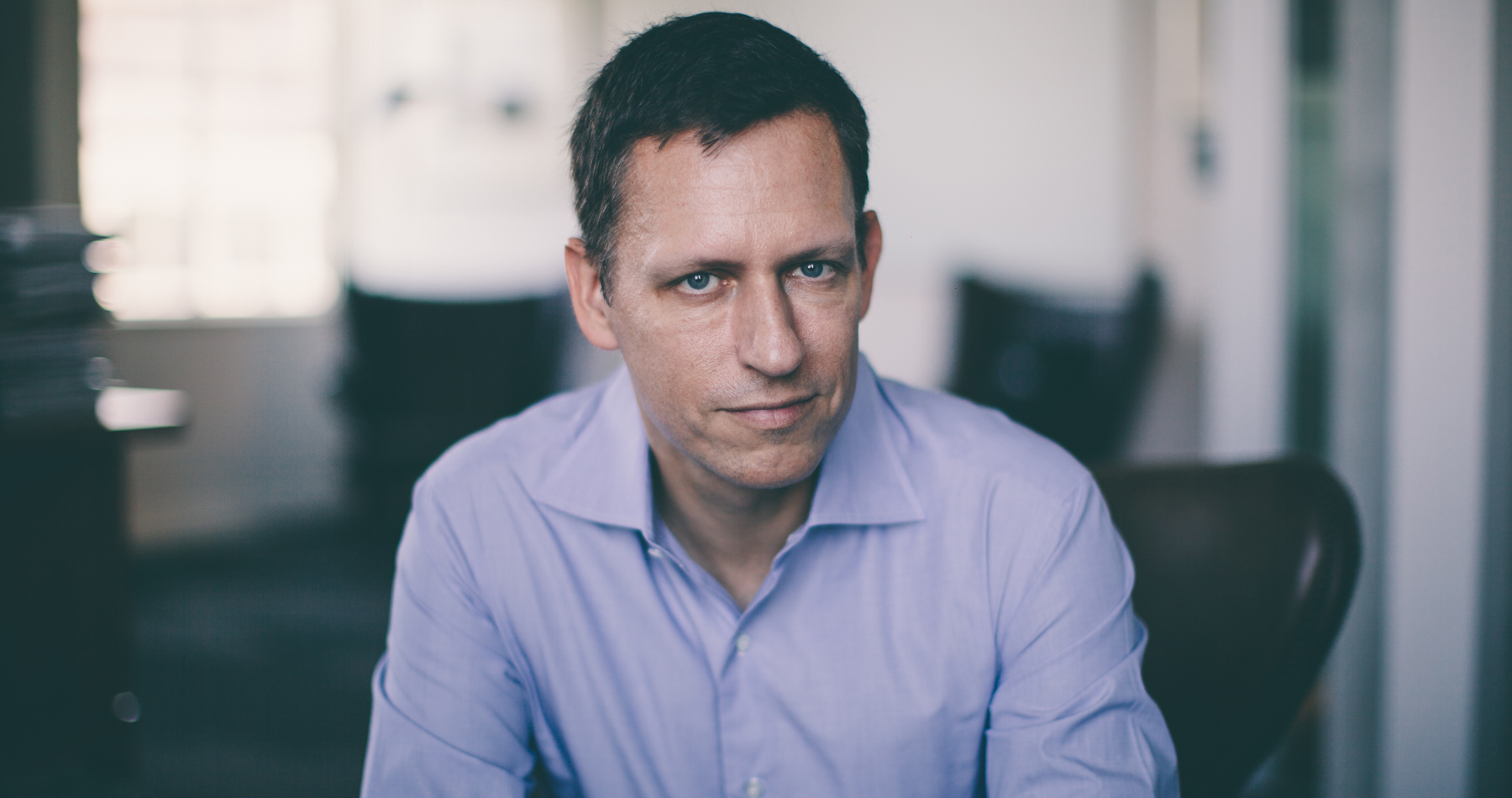 American entrepreneur Peter Thiel, co-founder of worldwide online payments system PayPal, will deliver the Commencement address at Hamilton College on Sunday, May 22, at 10:30 a.m., in the Margaret Bundy Scott Field House.
Thiel will be awarded an honorary degree, along with David Ferreiro, the 10th archivist of the U.S.; Indra Nooyi P '07, chairman and chief executive officer of food and beverage company PepsiCo; and Michael Shapiro'71, director emeritus of the High Museum of Art in Atlanta.
Ferreiro will offer the Baccalaureate address on Saturday, May 21, at 3 p.m., in the Scott Field House. Nearly 500 students are expected to receive bachelor's degrees during Hamilton's Commencement ceremony.

Peter Thiel
Peter Thiel is an entrepreneur and investor. He started PayPal in 1998, led it as CEO, and took it public in 2002, defining a new era of fast and secure online commerce. In 2004 he made the first outside investment in Facebook, where he serves as a director. The same year he launched Palantir Technologies, a software company that harnesses computers to empower human analysts in fields like national security and global finance.
Thiel has provided early funding for LinkedIn, Yelp, and dozens of successful technology startups, many run by former colleagues who have been dubbed the "PayPal Mafia." He is a partner at Founders Fund, a Silicon Valley venture capital firm that has funded companies like SpaceX and Airbnb.
In 2010 he started the Thiel Fellowship, which ignited a national debate by encouraging young people to put learning before schooling, and he leads the Thiel Foundation, which works to advance technological progress and long-term thinking about the future. Thiel is also the New York Times bestselling author of Zero to One: Notes on Startups, or How to Build the Future.

David Ferriero
David S. Ferriero was named 10th Archivist of the United States in 2009. The National Archives preserves the records of the U.S. Government and makes them available to the public.
Previously, Ferriero served as the Andrew W. Mellon Director of the New York Public Libraries. There, he was part of the leadership team responsible for integrating the four research libraries and 87 branch libraries into one seamless service for users, creating the largest public library system in the United States and one of the largest research libraries in the world.
Several new National Archives facilities, designed to protect the records and improve access to them, have been opened during Ferriero's tenure. The George W. Bush Presidential Library became the 13th presidential library under NARA's administration. The National Personnel Records Center in St. Louis moved into a new building and the National Archives at New York and in Denver moved to new locations. In Washington, D.C., the National Archives Museum's visitors' entrance was reconfigured, and the new David M. Rubenstein Gallery opened in December 2013.
Before joining the New York Public Library in 2004, Ferriero served in top positions at two of the nation's major academic libraries, the Massachusetts Institute of Technology and Duke University. In those roles, he led major initiatives including the expansion of facilities, the adoption of digital technologies, and a reengineering of printing and publications.
Ferriero earned bachelor's and master's degrees in English literature from Northeastern University and a master's degree from the Simmons College of Library and Information Science. He served as a Navy hospital corpsman during the Vietnam War.

Indra Nooyi P '07
Indra Nooyi is the chairman and chief executive officer of PepsiCo, the world's fourth-largest food and beverage company.
She received a bachelor's degree in chemistry from Madras Christian College in 1974, and then entered the post-graduate diploma in business administration program at the Indian Institute of Management, Calcutta. After graduating from IIM-C in 1976 and working in India, Nooyi received a master's degree in management from Yale in 1980.
She worked at the Boston Consulting Group, then Motorola and ABB. Nooyi joined PepsiCo in 1994 and was named president and chief financial officer in 2001 and CEO in 2006.
While at PepsiCo, Nooyi has played a vital role in starting Tricon, which is currently known as Yum! Brands Inc. She recommended spinning off Taco Bell, KFC and Pizza Hut, and also took the lead in acquiring Tropicana in 1998, and the merger with Quaker Oats Co.
In 2007 and 2008 Nooyi was named on Wall Street Journal's list of 50 women to watch, as well as Time's 100 Most Influential People in The World.
In 2007 she was honored with Padma Bhushan, the third highest civilian award of the Indian government, and in 2008 she was elected to the fellowship of American Academy of Arts and Sciences, one of the most prestigious international honors.
Nooyi is a successor fellow at Yale Corporation and serves on the board of directors of several organizations, including Motorola, the Federal Reserve Bank of New York, the International Rescue Committee, and the Lincoln Center for the Performing Arts.

Michael E. Shapiro '71
Michael E. Shapiro '71 served as the Nancy and Holcombe T. Green, Jr. Director of the High Museum of Art from March 2000 to July 2015. At the High, Shapiro oversaw unprecedented growth of the Museum's collection, developed numerous partnerships with national and international art institutions to bring masterworks to the High, and increased the reach and impact of the Museum's education programming and accessibility for school children and diverse audiences.
Under his leadership, the High raised nearly $230 million and increased its endowment by almost 30 percent. Shapiro worked to significantly increase the range and depth of the Museum's permanent collection, including the acquisition of key works by artists Mary Cassatt, Jasper Johns, Roy Lichtenstein, Claude Monet and Coosje van Bruggen and Camille Pissarro, among others. During Shapiro's tenure, the High built an outstanding photography collection, with a focus on works by Southern artists and on images relating to the American South, including the nation's most comprehensive collection of civil rights-era photography.
In 2005, Shapiro collaborated with renowned architect Renzo Piano on a campus expansion that more than doubled the Museum's size to 312,000 square feet.
Under Shapiro's leadership, the High Museum brought several ambitious and highly-successful exhibitions from Europe. This began his longstanding relationship with Henri Loyrette, former director of the Musée d'Orsay and the Musée du Louvre. Together, they developed the "Louvre Atlanta" partnership, which brought nearly 500 works of art from the Louvre's collections to Atlanta between 2006 and 2009, including many works that had not previously left France.
In 1996, Shapiro was the managing curator for the Olympic-related exhibition "Rings: Five Passions in World Art," which led to an ongoing partnership between the High and The Museum of Modern Art, New York, and brought four exhibitions to Atlanta.
Shapiro helped establish the Georgia Art Museum Partnership initiative in 2010, a collaboration between the High and five other Georgia museums. In keeping with his commitment to advancing the High's reach in Georgia, from 1995 to 2015 the museum welcomed more than one million school children and teachers.
Shapiro holds a Ph.D. from Harvard University and a Master of Arts from Williams College. He specializes in 19th-century and 20th-century painting and sculpture. Shapiro is the author of the recent book (2016) Eleven Museums / Eleven Directors: Conversations on Art & Leadership.