Performing Arts Opens Semester with Galileo's Daughters
---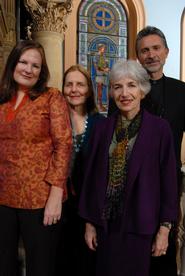 The Hamilton College Performing Arts opens the spring semester with Perpetual Motion: Revolutions in 17th-Century Science & Music on Friday, Jan. 21, at 8 p.m. in Wellin Hall. This performance is a multi-media production that includes music from the Baroque ensemble Galileo's Daughters, narration by Dava Sobel from her book Galileo's Daughter: A Historical Memoir of Science, Faith, and Love, and images of earth and space projected on a large screen.
Based in New York City, the Baroque ensemble Galileo's Daughters features Sarah Pillow (soprano) and Mary Anne Ballard (viola da gamba). Since their debut concert in September of 2001, Galileo's Daughters has performed throughout the United States, including the College of Charleston, the Piccolo Spoleto Festival, the University of Notre Dame, the Boston Early Music Festival and in New York City. The Hamilton College performance will also feature guest artist Ronn McFarlane (lute).
Dava Sobel is the best-selling author of Galileo's Daughter: A Historical Memoir of Science, Faith, and Love, a nonfiction look at the life and times of Galileo and his daughter, Sister Maria Celeste. The book is based on 124 surviving letters to Galileo from his eldest child. A former New York Times science reporter, Sobel is also the author of Longitude and The Planets.

Sobel translated the letters from the original Italian and used them to elucidate Galileo's life work. Galileo's Daughter won the 1999 Los Angeles Times Book Prize for science and technology, a 2000 Christopher Award, and was a finalist for the 2000 Pulitzer Prize in biography. The paperback edition enjoyed five consecutive weeks as the #1 New York Times nonfiction bestseller.
Tickets for this event are $18 for adults, $12 for senior citizens and $5 for students. For more information or to purchase tickets call the box office at 859-4331 or visit www.hamiltonpa.org.