Performing Arts Presents American Brass Quintet on Oct. 1
---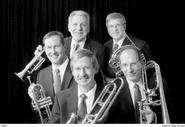 The Hamilton Performing Arts Classical Connections series presents the American Brass Quintet on Friday, Oct. 1, at 8 p.m., in Wellin Hall, Schambach Center for the Performing Arts. The program will feature works from the classical brass repertoire ranging from the 16th to 20th centuries.

Celebrating its 50th anniversary this season, the American Brass Quintet has been internationally recognized as one of the premiere chamber music ensembles of our time and an icon in the brass world. The ABQ's rich history includes performances in Europe, Central and South America, the Middle East, Asia, Australia and all 50 of the United States; a discography of more than 50 recordings; the premieres of more than 100 contemporary brass works, and in the last decade, mini-residencies that have brought the ABQ's chamber music expertise to countless young musicians and institutions worldwide.

Through its acclaimed performances, diverse programming, commissioning, extensive discography and educational mission, the ABQ has created a legacy unparalleled in the brass field. Hailed as "the high priests of brass" by Newsweek, "positively breathtaking" by The New York Times, and "of all the brass quintets, the most distinguished" by the American Record Guide, the American Brass Quintet has clearly defined itself among the elite chamber music ensembles of our time.

Members of the American Brass Quintet are Raymond Mase, trumpet; Kevin Cobb, trumpet; David Wakefield, horn; Michael Powell, trombone; and John D. Rojak, bass trombone.

Tickets for this event are $18 for adults, $12 for senior citizens, and $5 for students. Group discounts are available. For tickets or information, call the box office at 859-4331 or visit www.hamiltonpa.org.